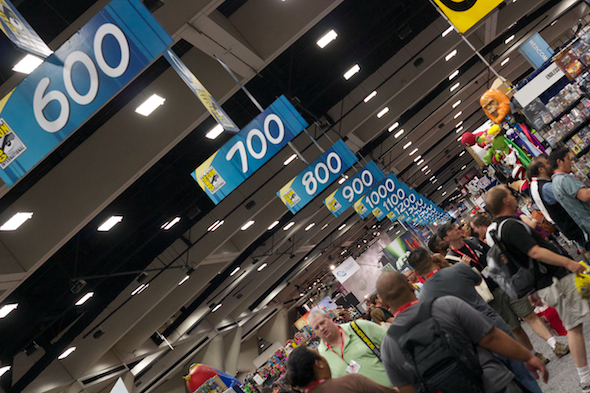 That's right, pasty shut-ins –- it's that time of year again. For five days every summer, San Diego starts to look something like a fever dream, filled with Wilfreds riding around in pedicabs, giant inflatable Smurfs with the eyes of Sauron, and –- hey wait –- was that Nathan Fillion? Yup, it's time for Comic-Con 2012.
For those of you who triumphed over the Con's angry online badge system, Owl and Bear has its panel picks for you. We've brought back our patented Clusterfuck Scale™, but this time, we've also provided a listing of designated Comic-Con Campgrounds® –- rooms and halls that are worth camping out in all day. Think we've missed something? Feel free to chastise us in the comments section below.
Thursday
Comic-Con Campground: Indigo Ballroom, Hilton San Diego Bayfront
If the Wilfred and Archer screenings aren't enough to keep your butt glued to your bayfront chair, then surely the Voltron and Power Rangers 20th Anniversary panels should make your average nostalgic 20-something want to stay put. Camp out here, and maybe someone will have the guts to ask who decided to make the yellow ranger Asian.
Clusterfuck factor: 7
2:00-3:00 – Inside the Shadow Show: Ray Bradbury's Lasting Impact on Literature, Comics, Film, and Beyond: Ray Bradbury was a Comic-Con institution, the father of literary science fiction who spread a message about the radical power of writing and love. Celebrate his legacy and mourn his loss with Canadian literary phenom Margaret Atwood. Room 5AB
Clusterfuck factor: 3
5:30-6:30 – Klasky Csupo: We're Back!: Klasky Csupo is home to many '90s cartoon favorites, such as Nickelodeon classics Rugrats, Aaahh!!! Real Monsters, and the less kid-friendly Duckman. It's been a while since we've seen anything big from the studio, so this panel might be an announcement for just that. Oh yeah, and they're raffling off an iPad. Room 24ABC
Clusterfuck factor: 1
8:30-10:00 – Dr. Horrible's Sing-Along Blog Sing-Along: This writer's-strike-inspired sensation comes to life thanks to the California Browncoats. Callback sheets will be provided, and "horrible prizes" will be awarded for the best version of each character from the show (we can't wait to see Moist). Room 6BCF
Clusterfuck factor: 2
Friday
Comic-Con Campground: Ballroom 20
Though you might have to donate a kidney to actually get in, Ballroom 20 will be fired up like an out-of-control meth lab on Friday. The casts of Community, Bones, and (if you didn't guess already) Breaking Bad will all be there, and Joss Whedon, not to be satisfied with the Firefly 10-year anniversary reunion, will have his own Dark Horse panel. Campground should be taken literally here — as in bring a tent and sleep there to ensure you get a seat.
Clusterfuck factor: eleventy billion
10:00-11:00 Hasbro Studios: My Little Pony Friendship Is Magic: The success of this animated television series is probably overshadowed by its decidedly weird cult following of "bronies," i.e., 20-something dudes so obsessed that they have their own convention. Come for the magic, stay for the awful, awful friendship. Room 23ABC
Clusterfuck factor: 2
2:45-3:45 – Game of Thrones Panel and Q&A Session: HBO's hit show is a model of restraint, always displaying just the right amount of boobs, severed limbs, and giant penises to maintain its appeal to the Masterpiece Theater crowd. We expect the Hall H panel to be a similarly classy, subdued affair. Hall H
Clusterfuck factor: 8
4:00-4:45 Adult Swim: Black Dynamite: Black Dynamite, the 2009 Blaxploitation film parody, may not have won out at the box office, but for us folks here at Owl and Bear, the flick was outta sight. We've got high hopes for the animated series, and considering the show premieres just a few days after this panel, we wouldn't be surprised if there was a sneak preview. Indigo Ballroom, Hilton San Diego Bayfront
Clusterfuck factor: 7
Saturday
Comic-Con Campground: Ballroom 20
Prime-time animation dominates Ballroom 20 on Saturday, and the promise of sneak peeks from shows like Futurama, The Simpsons, Family Guy, and American Dad suggests it won't disappoint. Stick around long enough, and you'll also be treated to panels on The Vampire Diaries and True Blood. If you're still in line at 2 p.m., Comic-Con offers you a fine conciliation prize: tickets to its famed masquerade.
Clusterfuck factor: 10
12:00-1:00 – Twilight Fan Fiction Group: You know you're morbidly curious to see what these people look like. Room 28E
Clusterfuck factor: God, I hope it's 1
1:00-2:00 – Cartoon Voices I: As celebrities encroach into the world of animated films, a career voice actor is harder and harder to find. Come to this panel to learn more about the field from the voices of some of your favorite characters, including April Winchell of Regretsy fame. Room 6BCF
Clusterfuck factor: 3
2:30-3:30 – Penny Arcade Q&A with Gabe and Tycho: Gabe and Tycho (aka, Mike Krahulik and Jerry Holkins) are not just webcomic artists — they're philanthropists, reality stars, podcasters, and general nerd tastemakers. They're pretty sharp too, so be prepared for a silver-tongued response if you get up the nerve to ask a question. Room 5AB
Clusterfuck factor: 6
Sunday
Comic-Con Campground: The Floor
Sure, lots of vendors pack up on or even before Sunday, but this is the perfect day to traverse the floor with minimal amounts of shoving and running into oversized Comic-Con bags. Plus, Sunday is a great day to bargain for comics, merchandise, and other memorabilia that vendors are trying to unload.
Clusterfuck factor: 4
1:30-2:30 Spotlight on Alison Bechdel: In a Con often filled with frivolity and ephemera, Alison Bechdel is a beacon of genius and talent. The recently named Guggenheim Fellow will discuss her work, including her most recent graphic novel, Are You My Mother?, Â a thoughtful memoir of, well, her mother. This woman is a true artist, and without a doubt a dyke to watch out for. Room 23ABC
Clusterfuck factor: 2
2:00-3:00 Max Brooks: Zombie Survival 101: It's clear why Max Brooks is so invested in surviving the zombie apocalypse: after publishing such informative and moving books as The Zombie Survival Guide and World War Z, Brooks definitely has a brain worth protecting! Given recent reports of attacks in Florida, you need to attend this panel now more than ever. Room 7AB
Clusterfuck factor: 4
2:15-3:15 Buffy Turns 20: Celebrating 20 Years of Buffy the Vampire Slayer/3:30-4:30 Buffy the Musical "Once More With Feeling": If you haven't gotten your fill of Joss Whedon by Sunday, then these back-to-back Buffy panels will surely top you off. Kristy Swanson, the original Buffy, will be there to celebrate Buffy's 20th birthday, as well as "special guests" hyped by publicists (eh, it's probably just Whedon again). Stick around for a screening of "Once More With Feeling," one of the television show's most beloved and memorable episodes. Room 6BCF
Clusterfuck factor: 6