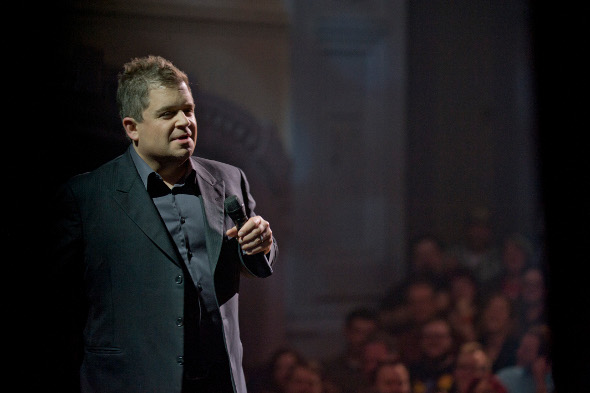 Patton Oswalt took a break from Comic-Con to perform at Spreckels Theatre on Thursday night. The self-avowed geek never misses the annual pop culture and arts festival, and the adoring audience was grateful that he scheduled a set at the nearby venue this year.
Fellow Comedian of Comedy Brian Poshen opened for Oswalt with a typically dry, self-deprecating set. The Just Shoot Me/Sarah Silverman Show star spent a good 80 percent of his set describing his farts to the crowd — stories included farting on David Cross' back to gain an edge in Goldeneye and accidentally stinking out Christian Slater with a spider-web-like fart ("It's in my mouth!") during an audition — with a final 20 percent dedicated to the sorry state of his aging body and genitals. Posehn was charming and lovable, and his delivery had a winning naturalness to it that felt more like hanging out with a hilarious friend than watching a performance.
Oswalt's set was similarly self-loathing, with the comedian also focusing on his weight and food issues. The jokes were just as funny as Posehn's, but following that set the unending parade of self-hatred began to wear thin. Luckily, Oswalt is a brilliant, versatile comedian with more than one trick up his sleeve. Bits about his young daughter loudly calling an old black man a monkey, the end of hunter-gatherer evolution (On reading the 4-step instructions on a package of frozen food: "Who am I, Emeril?!"), and an encounter with an over-sharing prostitute were all steeped in Oswalt's trademark wit.
As funny as those jokes were, the show's best moments came when Oswalt interacted with the audience. "Where are you from?" exchanges are usually a recipe for boredom, but Oswalt's gracious conversations with some members of the crowd displayed the lightning quickness of his humor and genuine quality of his humility.
Oswalt ended the set with a pair of stories about the humorlessness of Germans and the horrors of living in New York City. It made for a strong finish, but much of the night's comedy lacked the stream-of-consciousness genius that made his 2004 album Feelin' Kinda Patton such a classic, and his set was mostly devoid of jaw-dropping, quotable bits. Yet even at half-speed, Oswalt is still one of the funniest people on the planet. He may have eased off the gas in recent years, but it's still a pleasure to watch him drive.