FYF Fest took over L.A.'s State Historic Park on September 1 and 2, bringing its usual blend of punk acts and buzz bands along with it.
Friday started off with LA's FIDLAR, who delivered a much more mature set than expected. The only throwback to the wild antics of their earlier, cracked-out, party-punk days was a finale of their hit single, "Wake Bake Skate," which seemed more like an afterthought than a meaningful part of their set. But this wasn't necessarily a bad thing — some of their new material packed some serious muscle with heavy riffs that bordered on Black Keys-ian power. It'll be interesting to see what direction FIDLAR take on their upcoming debut album.
As the late afternoon began to near, Cloud Nothings blindsided attendees with one of the most aggressive and definitely loudest performances of the entire festival. The Pitchfork-approved band, led by lead singer Dylan Baldi in glasses and a flannel, put on a blistering performance that made it hard to differentiate between its distorted riff vamping and Baldi's throat-shredding wailing. The infectious "Stay Useless" whipped the mosh pit into a wild frenzy and the slow burn of "No Future No Past" left the crowd's ears ringing.
It may be horribly uncool, especially now that multiple music sites have denounced them as nothing but a hipster flash in a pan, but it was hard not to love The Pains of Being Pure at Heart's set. There's something about the band's fuzzed-out, '90s-inspired shoegaze mixed with horribly oversensitive, butthurt lyrics that cuts to my soft, mushy center. Being able to float on top of the fuzz tones and wax nostalgic about loves lost while the Cure-esque solo on "Heaven's Gonna Happen Now" curls around your eardrums is incredibly soothing and provides a nice break from other hyper-masculine rock bands that try way too hard (COUGHThe MenCOUGH).
Purity Ring was the absolute best way to kick off the night. Although their hanging cocoon lights and touch-sensitive light-up lanterns were mesmerizing, I didn't get too much time to watch the spectrum of colors shift back and forth. My eyes were glued shut during the majority of the show as I swayed and bobbed to the spine-snapping bass tracks that simultaneously jerked and bathed the crowd in a deep rumble. Megan James' ethereal, haunting voice floated above the roiling sea of bass during bangers like "Lofticries" and "Belispeak." But even those songs were stretched and warped by the nimble fingers of Corin Roddick, who alternated between smashing the MIDI pad and the aforementioned light lantern MIDI controllers. It all felt like a trance party in a haunted house, except with more hipsters.
M83 were mind-blowingly epic as always, but the far more interesting show to talk about was the incredibly weird acid trip that was The Growlers' show. To clarify, I was not on acid at that show, but had you asked me at the time I really wouldn't have been able to give you a straight answer. To properly set the scene: the backdrop alternated between psychedelic patterns, disturbing clips from A Clockwork Orange, '70s softcore porn, and a hologram-type mirror that displayed a man playing different instruments who the audience was told was one of the band members' dead friends. Then during one of the closing songs, "Sea Lion Goth Blues," go-go dancers with tassels covering their nipples stood on speakers and gyrated. To add to the madness, everyone had moustaches but women in the crowd still tossed their bras anyway. Regardless of just how weird the show turned out to be, it was impossible to keep from grooving to the mariachi-influenced, folk-tinged, psych-rock show. It was totally awesome.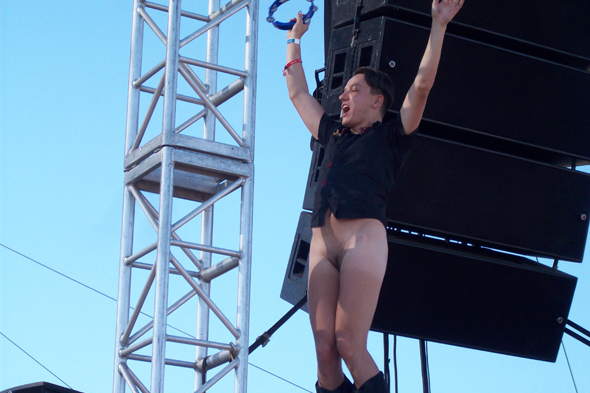 With nothing on his body but what looked like navy blue spanx covered modestly by a golden triangle and a billowing golden cape, King Khan from King Khan and the Shrines took the second day and kicked it into high gear. His soulful voice and giant-fake-afro headbanging got the crowd moving to the psychedelic garage rock and held that intensity for the entirety of the set. Toward the end, saxophonist Ben Ra hopped up on some of the huge speakers at the edge of the stage. He then tucked himself behind his legs, ripped his pants down and pulled a Buffalo Bill in front of the entire crowd. It was simultaneously hilarious and incredibly punk rock at the same time.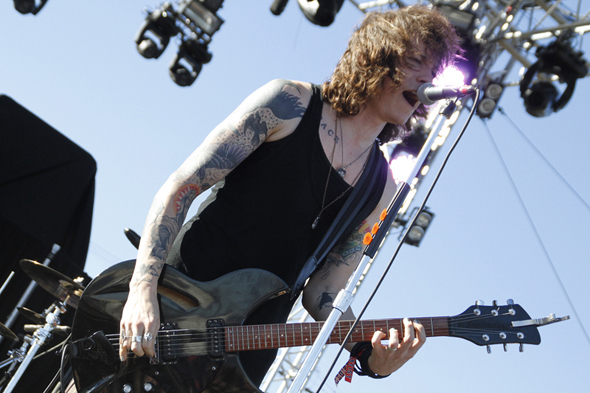 Against Me! took the stage directly after and were fronted by their newly transgendered singer Laura Jane Grace (formerly Tom Gabel). Any concerns about the guttural roar that made Against Me! so unique changing after Grace's coming out were immediately put to rest when she proved she could still tear those tortured lyrics from her throat, and the audience responded heartily. While newer tracks like "I Was a Teenage Anarchist" and "Thrash Unreal" fell somewhat flat, older anthems like "Walking Is Still Honest" and "Pints of Guinness" got the entire crowd to scream every word right back at her.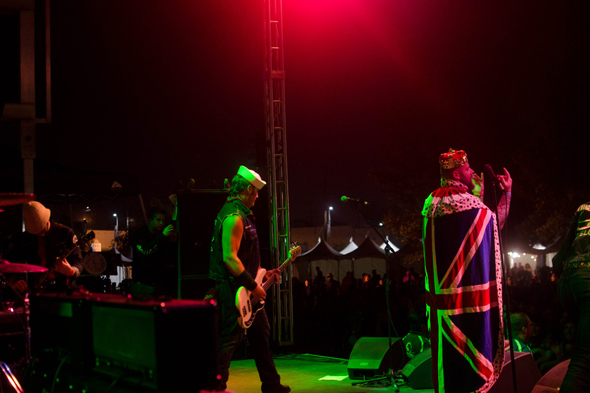 Turbonegro closed out the second night and, despite the best efforts of one kid who apparently took it upon himself to get everyone in the mosh pit to hate him, it was a fantastic show. The Norwegian "death punk" band started with their ebullient yet morbid single "All My Friends Are Dead" and kept banging out heavy power chords that spread the mosh pit out until it engulfed nearly half the crowd. With just enough kitschy glam-rock theatrics, the makeup-and-silly-hats-clad band managed to make their performance more of a spectacle than a show. Halfway through the set, the snarling frontman known as the "Duke of Nothing" tore off his shirt (proudly displaying a massive tiger tattoo across his ample stomach) in order to put on a king's cape and crown.
All in all it was a great festival but definitely held fast to its punk-rock roots. The sets flew by with nary a moment for rest in between, and that was perfectly fine. The best approach was to run in, blow your voice out, dance until you couldn't move, and then leave. There were no quiet moments of reflection, just nonstop pounding beats and more power chords than were likely necessary. It was fun as hell.