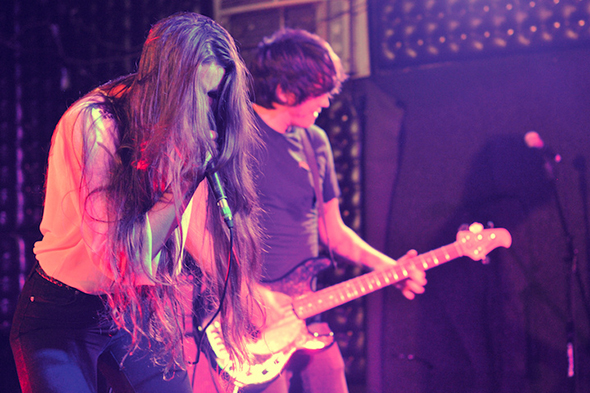 MP3: Dirty Sirens – "Hellfire"
Dirty Sirens' brand of sex-fueled blues rock caught our ears during The New Kinetics' record release show last month.
During Dirty Sirens' set, singer Monterey Salka stalked the stage like a hungry wildcat, while Christy Hüber played scorched earth guitar riffs, creating a sound that could be described as Fleetwood Mac-gone-metal. The band was relatively new at that point, but since then, they've recorded some of their songs and made a name for themselves in San Diego – even winding up on local label Aural Gravy's Best Songs of 2012 list.
Dirty Sirens will open for Barbarian at the Soda Bar on Monday, January 7. The gig is part of a January residency at the venue starring Barbarian. Other bands opening for Barbarian during the Monday night residency include Buddy Banter (Jan. 7); Parquet Courts and Ditches (Jan. 14); The Abigails, Idyll Wild, and Golden Beaches (Jan. 21); and Dirt Dress, Bangladesh, and Slipping Into Darkness (Jan. 28).
In anticipation of Dirty Sirens' January 7 show, Hüber and Salka sent us this characteristically crass list of influences. With items that range from parrots to poop to proud ownership of fantastic tits, it's well worth a read.
Poetic Memory: Dirty Sirens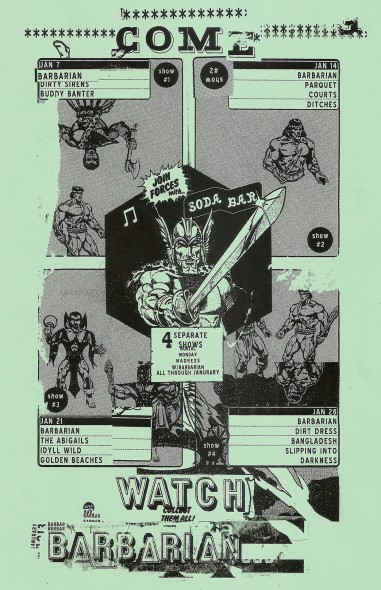 Jameson: Never on the rocks, never mixed. Drink that shit neat, don't be a pussy. I blame Jameson for the majority of fuck ups that have transpired on stage and off. Damn you Jameson, damn you to hell. (Christy Hüber)
The Love-Child of Robert Plant and Nancy Wilson that I am CONVINCED is out there somewhere: I like to imagine that one fateful evening, the King and Queen of rock vocals got down and dirty…fucking like methampetamine-fueled rabbits amongst broken beer bottles, empty Quaalude vials, and far too many pillows. Maybe there was sitar music playing. Or ABBA…maybe they were into shit like that. I'm not one to judge. All I hope is that from that fateful union sprung some unholy super-kid, and that I sound a little like her. Him. It. (Monterey Salka)
Parrots: Parrots are the coolest motherfuckers to walk this earth. They are our modern day dinosaurs and if trained properly can talk a decent amount of shit without even knowing it. My girl parrot Sheldon will debate you into the next century and my little dude Paulie will scold you better than an old Jewish grandmother. Dogs and cats can suck it; parrots are superior. (Christy)
The Mid-West: Even though we both are the proud owners of fantastic tits and have a very firm affinity for the D, people tell us we're too much like dudes. That's probably because we both grew up in the middle of butt-fuck nowhere and learned to entertain ourselves by wrestling in the mud (not together, get your minds out of the gutter), shooting empty beer cans, and sweating our proverbial balls off in the sticky Pennsylvania/Minnesota summers. There's not a lot of room for feminism out there…unless you wanna get yer ass into the kitchen and fry up that groundhog you just shot for supper. (Monterey)
The Ocean: Pretty much the only reason I ended up in California from Minnesota by way of Nashville, Chicago, and St. Louis. If you don't understand or at least appreciate the appeal of the ocean then you are clearly an asshole I want nothing to do with. (Christy)
Poop: Pooping is as good of a release as playing music. If I'm having a hard day I'll go take a shit and text Monterey for a while. No one bugs me on the pot, and if they do they're asking for a flaming pile of poop on their front steps at a later date. (Christy)
The Damnation of Adam Blessing: Some random three-piece acid rock band that came out of Cleveland in 1968. Our friend Al Howard from The Heavy Guilt and The Midnight Pine turned us on to them and the album has definitely been on repeat ever since. They've got that devil-may-care thing going on…plus any band that's old enough to be my father is fucking awesome in my book. (Monterey)
Los Angeles, California: I have met a good amount of shitheads up in L.A., understandably the source of what much of our songs are about, and the reason why I'm now a cold-hearted asshole. LA is also a fun place to be, especially Echo Park. On a plethora of occasions Monte and I would find ourselves driving around on Sunset bumping Eminem on the radio and philosophizing about shit that we would then forget immediately due to the likely drug and alcohol intake that occurred at the time in question. (Christy)
Dirt Bags: The most obvious and paramount factor that Monterey and I have in common, and a huge reason we started this band, is our infatuation with dirt bags. Refer to them as what you will: hipsters, douchebags, assholes, musicians, Satan, emotionally retarded…these dudes will all inevitably end up as the subject of a Dirty Sirens song. (Christy)
This Guy: Because he is obviously all out of fucks to give. (Monterey)
Photos – Dirty Sirens at The Casbah, December 2, 2012