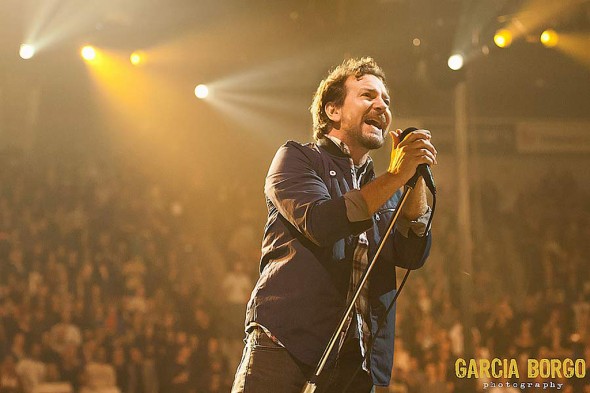 Thanks to Pearl Jam's vast community of fans, their shows feel like 17,000 friends hanging out.
I go to lots of concerts by myself, and I don't mind — I actually like it. But I refused to go it alone to Pearl Jam's show on Thursday at Viejas Arena. From everyone singing along to the every song, to jumping up and down in unison, to throwing your hands up in the air, it is meant to be a communal experience.
Pearl Jam took on Ticketmaster in 1995 because they didn't want their fans paying as much as $30 for a concert ticket. Tickets for Thursday's show were $80+ (after Live Nation fees). But the band played for almost 3.5 hours, starting promptly at 8:30pm and ending just before midnight. They played 34 songs! When I mentioned this to a friend the next day, he said, "Wow, that was a long concert. Who was their opening band?" I said, "They didn't have an opening band."
So you get a lot for your money when you go to a Pearl Jam show. And if you're lucky, you might just walk away with a souvenir: Eddie, Mike, and Jeff all tossed out lots and lots of picks. Vedder tossed about 10 tambourines out into the audience during the penultimate song, Baba O'Reiley, and he shared his 3+ bottles of wine with the general admission fans in the front row. Yeah, you get your money's worth when you catch this band in concert.
Eddie Vedder, who spent a good bit of his youth in San Diego, seemed happy to be back in town; he was chatty, danced around, smiled a lot, and jogged on stage like a boxer warming up for the match. He also joked with the crowd, noting "Traffic still sucks, but we are all in here now." Referring to all of the Mexican flags in the front row, Vedder said, "I can see that customs was busy." A fan held up a sign that said, "Tijuana." Eddie asked him, "Still got Iguana's? Is that place still going? Death trap that place. Awesome place to see a show, but scary."
Before playing "In Hiding," "Setting Forth," and "Swallowed Whole," Vedder recalled one time in New Orleans, where he realized that "My soul and my body are not the same thing. I went to the bathroom mirror to see what it was," a fan shouted something indistinguishable from the audience and Eddie jokingly replied, "No, I wasn't on mushrooms, you fucking asshole. Well, all right, I was, you got me. I still want to know what was inside."
Before playing "Army Reserve" Vedder said, "This one is dedicated to the locals: Camp Pendelton, Point Loma." During "Even Flow," Vedder went back stage to get another bottle of wine to share with fans.
Before playing "Sirens," Vedder invited a fan from The Philippines to come up to the stage. He said, "I guess he has been listening to us for 21 something years." He turned to the fan and said, "Since you were two." He continued his introduction, "We played in 1995 and you missed that one, and so now you don't have to feel bad about that anymore because you made it. And that is why I asked you to come up here because we had an incredibly memorable time there. And because of that, we've been thinking about ya'll in the last ten days. So, we will see you in Los Angeles as well. And we just wanted to tell you, to tell them, we'll be sending you home with a check, a little something. We thought since you're here we could save on postage and have 100% of the money go." Eddie then popped a bottle of champagne and gave it to Rob.
Before singing "Better Man," Vedder said, "A long time ago, a few blocks from here, seriously just a few blocks from here, I wrote this song on a four track." At the end of the song, Vedder engaged the crowd by doing a call and response where he would sing out some notes and the crowd echoed the notes back.
Vedder dedicated "Spin The Black Circle" to Lou's Records; during the song, Jeff Ament and Mike McCready ran around the stage in circles, following the spotlights that were aimed at the stage floor. I expected a full-on mosh pit eruption during this song. During "Porch," McCready and Ament played with the lighting bulbs like punching bags, they would hit them with their head and their guitars making them swing wildly across the stage and over the crowd. McCready even let one light bulb hit him in the head. Ouch, that must have hurt He then destroyed another lightbulb with his guitar. Could these guys really be in their late 40s? That was the end of the first set. The stage crew dutifully came on stage to clean up the broken glass.
At the beginning of the first encore, Vedder assured the crowd, "We'll keep playing for a while. I don't know what time it is." He started to reminisce about living in San Diego "A lot of the faces, they don't really change, there are a lot of San Diego faces, it is just nice see everybody. If I'm in a car driving here, all of it is flooding memories. It is like watching an old Beta/VHS tape on fast forward at everything we've been through. Driving by, up on the hill I see Thrifty Gas. It is something different now, but the building is still there. It was actually Thrifty Gas and Grass because we knew the guys that would sell us pot. Everything from, like, your first job, your first car, your first car crash."
He then (justifiably) made fun of the Union Tribune's new tagline: "The paper came and the tagline, like, right where the date is, says, "The World's Greatest Country, America's Finest City. Where did your humility go? What the fuck? Don't make me remind you (he hesitated momentarily, probably thinking in his head, "Should I say this?") about the name of your football team and your baseball team [he chuckled]. I love both fucking teams, I love them both, but just don't make me remind you. I'm also a Cubs fan. Okay, you guys gave us Ron Burgundy."
Introducing "Sleight of Hand," Vedder said, "I was living in Seattle, but the memory I was trying to draw from was actually taking, I believe, the 163 from Miramar Road down towards Dawson off of El Cajon Blvd. My job, I had to wear a clip-on tie. This song is called Sleight of Hand."
In his introduction to "Sleeping By Myself," Vedder said, "The new record, on this tour, we've played every song off of it except this one, just thought you'd like to know that this would be the first time we've tried to experiment with it live." He held up his wine bottle and said, "A sip of wine for courage, a toast to San Diego, and off we go." When he introduced "Severed Hand," Vedder said, "This next one is about responsible drug use." And then the smell of pot highly intensified throughout the arena. The band finished off their first encore with "In My Tree" and "Rearview Mirror."
Eddie came back on stage for the second encore and tried to moonwalk; he was in such a jubilant mood, laughing, jogging around, it was a pleasure to see him. A fan shouted out to the band. Vedder responded, "What's that? Raise your hand. The thing is, we all lost our hearing about 1995, we can't hear a damn thing. It's really loud on stage and we still can't hear a damn thing. That is why we look at each other… Mike McCready he's got earplugs on, I can say whatever I want, he won't hear a damn thing. It's four o'clock, Mike, yes it is, four o'clock."
To introduce their cover of Edward Holland Jr.'s "Leavin' Here," Vedder acknowledged his mom, "My mum, my dear mum, who's here tonight, hopefully sitting down in a Lazy Boy chair, sitting comfortable. Now, here's an exercise in trust. I'm going to hand you this bottle and you are going to pass it up to my mom, right there. Because, you know, we have easy years and we have hard years and this has not been the easiest of years and my mom is still cooking, looking good and here's to you mom." Vedder took a swig of wine before passing on the bottle. "Give my mom a drink, will ya? Pass it on, you'll get a turn yet. There you go mom, it is all yours." His mom took a swig of wine. Vedder laughed, "It's genetic." He continued, "This is to Camille, Stone's really great friend, a very courageous woman, this is to my mom. This is also to a woman yesterday who got the Medal of Freedom from Barack Obama, one of the great women on the planet. Her name is Gloria Steinham, a good friend of ours, so we'd like to play this one for all the women. This song is called 'Leavin' Here.'"
Before singing "Do The Evolution," Vedder said, "It is a pleasure and privilege, I don't say it lightly, it has been a great room." When Pearl Jam played "Alive," Eddie went into the crowd and grabbed fans' hands and stood with the crowd. The band then played The Who's "Baba O'Reilly," and Eddie baptized himself with some wine that he sploshed up in the air and dove under before grabbing two tambourines and singing Baba O'Reilly.
After playing for nearly three hours, Vedder said, "This is where you ask the question, 'Why go home?' I already made the set list for the next shows. We could just play that one, too." Introducing "Yellow Ledbetter" Vedder said, "Mike would like to play this song for you." At the end of the song, McCready segued into a rendition of the Star Spangled Banner a la Jimi Hendrix.
The night ended with a cover of Neil Young's "Rockin' in the Free World" where Matt Cameron's younger brother Ray came on stage to play guitar with the band.