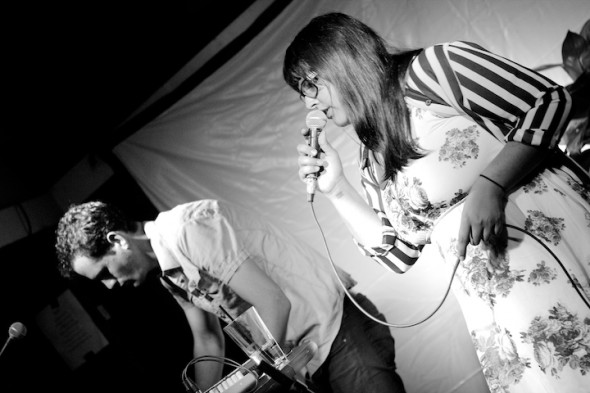 San Diego's Champ first caught our attention in June with the release of their video for the trippy earworm "Real Cool Kids." The song's unique sound showed lots of potential, and now it looks like Champ are set to deliver on that potential with the release of their debut EP.
The name and track list haven't been announced yet, but the trio plans to release the EP by the summer. Champ only have a few shows and demos under their belt, but that small output was still enough to interest Little Hurricane's CC Spina, who has signed on to manage the group.
"I have always been a fan of Andrew [Armerding] and Greg [Theilmann]'s projects in the past," Spina says. "But once I heard Ferran [Nicolls]'s voice in the demo for 'Real Cool Kids,' I knew this was a special combination of musicians."
Nicolls' smoky vocals have a way of making an impression. Lacking any on-stage experience, Nicolls got her first taste of performing in public by singing karaoke at a local gay bar. Armerding heard her sing and invited her to record with him, and the rest is very recent history.
Between the new EP and Spina's management, 2014 is already shaping up to be a good year for Champ.