For the 21st time annually, the San Diego Latino Film Festival will bring a variety of films, events, special guests, and activities that celebrate the work of Latinos in cinema. The genre sidebar "Un Mundo Extraño" is a recent addition to the festival.
Horror, fantasy, science fiction, and other genres are labels that are given to films that attempt to show something outside the realm of everyday experience. They take the strangeness found in nature and human interaction and enhance it in order to make an audience understand something about human nature, or to make political statements about a variety of topics, or perhaps merely to attempt to evoke different emotions and experiences in a safe and artistic way.
Films in these genres are generally stigmatized for trying something different or uncomfortable, those very differences and challenges are what that draw people to them. The "Un Mundo Extraño" sidebar of the San Diego Latino Film Festival is an examination of genre films from Latino countries, which have their own unique way of telling dark, fantastic, or bizarre tales that is worthy of note. This year's "Un Mundo Extraño" selections showcase an eclectic number of films from Mexico, Spain, Brazil, and Argentina that demonstrate just how diverse genre films can be.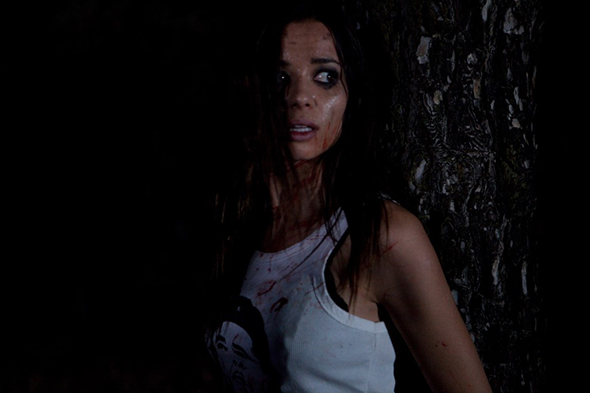 Viral (Spain, 2013): In Lucas Figueroa's comedic thriller Viral, the obsession with social media and reality television are put under the microscope. Young nerd Raúl, who is experiencing financial hardship with a sick father, agrees to take part in a reality contest that makes him a living department store mannequin for a week. His only contact with the outside world will be through social media. If he can gain a million online fans by week's end, he gets a hefty sum of prize money. Unfortunately, poor Raúl isn't entirely up to the task, and anxiety soon takes a toll on his psyche. He begins to see things that may or may not be real. Many questions about corporate branding, pernicious television, and the intoxicating lure of the social media "like" are looked at in Viral. How far do people go to be center stage? (March 16)
Dame tus ojos (Mexico, 2014): Two beautiful young women take to the road for a trip where the scenery, food, and fun include a heaping helping of murder and sadism. They are like Thelma and Louise if Thelma and Louise were more like Ed Gein and Ted Bundy. On their bloody trail are a detective, whose difficult experiences have led him down a spiral of alcoholism, and an ambitious reporter determined to break the story. This Mexican thriller is part melodrama, part horror, and part violent love story in the vein of True Romance. Director Jose Luis Gutierrez takes pains to make his young killers relatable enough that the audience forgets the horrors they are capable of, increasing the shock value of their vicious crimes. With an introduction by director Jose Luis Gutierrez! (March 16 & 23)
Las Mariposas de Sadourní (Argentina, 2012): This truly unique arthouse thriller from Argentina's Dario Nardi offers a hyperreality of effusive color and hallucinogenic cinematography to tell the story of Sadourní, a former circus dwarf who tries to re-enter society after serving a prison sentence for a crime of passion. Everywhere he goes and every person he meets is more eccentric or bizarre than the last, making this one of the most enjoyable cinematic experiences of the festival. Admirers of expressionism or surrealism should enjoy this ambitious and impressive first-time feature from Nardi. (March 15 & 19)
At Midnight I'll Take Your Soul (Brazil, 1964): This is the "Un Mundo Extraño" revival film. In 1964 Brazil, José Mojica Marins defied expectations by daring to bring his love of macabre cinema to the Brazilian screen. In a time before the consideration of independent cinema as anything other than pure amateur, Marins created a character that became so successful he inspired international cult fandom and a franchise that continues to this day. In English, that character is the legendary Coffin Joe, and the first of those films, At Midnight I'll Take Your Soul, is a delirious and nightmarish Gothic horror that exceeds the expectations of what one can do with no budget, no professional actors, and an awful lot of imagination. This will be screened with the new Brazilian short film Estrela Radiante with the short's director, Fabiana Servilha, in attendance. (March 21)
San Diego Latino Film Festival Spotlight: Heli (Mexico, 2013): The horrors of the Mexican drug cartels have long been fodder for news programs, but Amat Escalante's sober film Heli takes a closer look at how lives can be affected by living in the middle of such violence. This film is a full immersion into the nihilistic world that these characters inhabit, and it pulls no punches in depicting their tribulations. At the center of the film are two young men who react differently to the drug business — one tries to capitalize from it, the other to refute it — but even the most benign of intentions are met with dire consequences. This is a challenging film that can seem nihilistic on the surface, but it gives a real human face to the people who attempt to survive in trying situations. (March 14, 17, & 21)
Full disclosure: Owl and Bear writer Miguel Rodriguez programmed these films for the San Diego Latino Film Festival, which he did in a completely voluntary fashion. He receives no financial compensation or benefits for his contributions to the festival. Get the full schedule of the "Un Mundo Extraño" sidebar of films from the San Diego Latino Film Festival website and see the rest of the great offerings at www.sdlatinofilm.com.