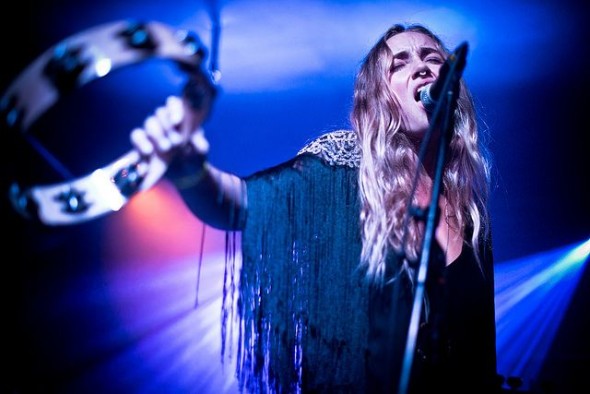 Zella Day was joined by two other acts at the Casbah last Monday.
Local band Hot Sands opened the show and brought in a grassroots crowd loyal to members Christopher James Oppold (guitar) and David Ely (drums). Lengthy percussion-led intros gave way to '60s surf rock mixed with '70s prog-inspired keyboard and guitar riffs. Hot Sands played completely instrumental music, which made it feel like we were all sitting in on a band practice heavy on the spontaneous experimentation.
Ely repeatedly stood up while drumming, as if to drive home his main point. Oppold made love to his guitar on stage, riding it hard, until Casbah staff whispered to the keyboardist to wrap things up. Hot Sands kept the fire burning for several more minutes until ending to a house full of cheering, applause, and calls for an encore.
Another San Diego local, Nicky Venus, took us into the next decade with '80s-inspired synth/electro rock. Upon first listen, one might think they are hearing Marc Almond of Soft Cell, but Nicky Venus carries a pitch that is a little more baritone, rich, and haunting.
Venus opened with "Little Runner," the title track from his EP Little Runner (released February this year) and "Bodily Love," a new single. With strobe lights flashing, he danced and sang atop receivers and serenaded us with "Legacy." He then covered "I Guess You're Just What I Needed" by The Cars before closing with his own "Fall in Love."
As he stared off into the distance, focused on something beyond the here and now, Venus gathered whatever otherworldliness it is that propels him and brought it back to the crowd. Venus seemed like the kind of performer who would illicit the same intensity and vibe whether singing to 10 people or 10,000.
Here from Los Angeles by way of a tiny town in the mountains of Arizona, indie pop-rocker Zella Day (yes, that's her real name) came to celebrate Kicker, her debut LP released a couple weeks ago. The album is a personal affair that illustrates the singer/songwriter's vulnerability in a confessional yet relatable way.
Day opened with "Jerome" while banging on the tambourine, then belted out "High," an earthy yet ethereal song about being in love. Oppold of Hot Sands joined her on stage as her touring guitarist, and her bassist moved to the synth for several songs.
As Day sang "Ace of Hearts," the intensity mounted as she arched her back in aching lament singing, "We shouldn't have to try so hard." And on "1965" she asked, "Can we go back to the world we had / The world we've been dreaming of?" Day frequently connected with Oppold — the chemistry between them palpable throughout the set — and the two fed off each other before sharing with the rest of us.
Day exhibited a certain prowess onstage, moving around like a "tiger on the prowl" during the song "East of Eden." During "Shadow Preachers," she jumped off receivers as she sang, "You make me wanna love, hate, cry, take, every part of you / You make me wanna scream, burn, touch, learn, every part of you." It was as if her art wasn't enough to express the depth of feeling; her whole body moved like she was itching to crawl out of her skin into something more transcendent.
Things slowed down with "Jameson" — as one fan pulled out an actual lighter — and quickly turned sultry when Day covered The Zombies' "Time of the Season." The rendition featured more talented improvisations from Oppold, and it evoked a sweltering hot and humid scene, our primal natures ravenous for sensuality.
Day closed out her set with "Sweet Ophelia" and "Hypnotic," two popular tracks off of Kicker, before sparing the bassist a walk across the stage and back by announcing their very last song, "Milk and Honey." Overall, Day's performance proved commanding, "hypnotic" even, as she stalked across the stage, moving low and deliberately before reaching her arms up toward the sky in reckless abandon. This one is on the hunt, and she's coming after you.