There's no shortage of naked bodies on the internet. Any hormone-addled 14-year-old boy is just a Google search away from a lifetime supply of bare breasts, butts, and more. That's not a bad thing, necessarily, but the over-saturation of nakedness on the internet does make it harder for artistic nude photography to get noticed.
Luckily, that hasn't been a problem for Strangers in a Fire, the new photography project by Mitch Wilson (formerly of No Knife and now a member of Lunar Maps) and Brandy Bell. Since posting their first photos three months ago, the San Diego couple has gotten plenty of attention.
It's easy to see why. The main concept of Strangers in a Fire is a striking one: nude models in otherwise dark rooms, their forms lit only by abstract projections. The results are gorgeous and evocative, and that's led to a long line of volunteers eager to pose for the project. Recent models have included musicians from San Diego bands like Hexa, Soft Lions, Wild Wild Wets, and more. So naturally, we had some questions.
Owl and Bear: How did the concept for Strangers in a Fire come about?
Brandy: I wanted to work on doing some cyanotypes and needed photos. Mitch knows more about photography and has a camera that can do a lot of stuff. I wanted to work on multiple exposures, so we did a lot of trial and error and learned the techniques.
There was one photo I saw online that I was inspired by. Mitch showed me it wasn't multiple exposure but a projector. My dad is "famous" for his slide shows… we asked to borrow his very, very old slide projector, invited some friends over to be our first models, and then we were hooked on how cool it looked and subsequently added a digital projector.
Mitch: And we asked the people that we photographed if they were cool with us posting the shots so we had to create an Instagram page. We made a list of names and ended up going with Strangers in a Fire which is a Lunar Maps song. We'd do a shoot and then crop and do minimal editing and post a picture a day.
People started responding to it and wanting to be involved, and it got to the point where every day or evening that we had off we'd have a shoot scheduled. It was completely unplanned and unexpected, and it forced us to take the leap and improvise and try different things, which has proven to be the best way for us to work. This is a new and unfamiliar style of working and shooting for both of us.
Owl and Bear: Where do you get the projections that you use?
Brandy: With slides: I got some from my dad, our friend Alex Zaragoza brokered Pea Hicks donating some to us, and we got the rest from just from scouring the swap meet. Some of the slides are hilarious. Some make me sad because I think, "That poodle is probably long dead by now." We make the digital images with different programs and apps. We don't like to reuse them if possible so we make a bunch per shoot. I like the colorful ones. It's obvious I'm still having issues with the '80s being over.
Mitch: At first we just looked for interesting patterns online, but we decided we should make our own so we wouldn't run into any copyright issues or anything. I think that is when Brandy really started to catch fire and get inspired. She loves to paint and she found several programs where she could make everything from abstract patterns to digital paintings. It got to the point where I couldn't wait to see what she was coming up with next. A lot of these patterns made me wonder how it was going to work until I saw it projected onto bodies. She has a great eye for things that I wouldn't have given a second thought to but that turn out to be my favorites. I make patterns too, and we send them back and forth while we are at work.
You know that feeling when you are working with someone and you both feel like you are onto something that is consuming your thoughts, and you just have to keep working on more and more new stuff? It's like that — I always draw parallels to being in a band and writing music with bandmates… When you finally get somewhere that you are all really into it's like you become some sort of conduit and it all just starts flowing out. You find that their ideas spark more ideas in you, and it's like some kind of idea explosion that gets new ideas all over everything.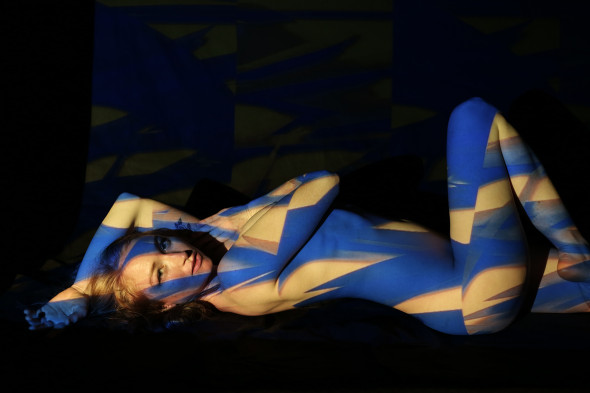 Owl and Bear: How are the work duties split between the two of you?
Brandy: It really depends on who has the most time to make projections or go through our thousands of slides. We have two cameras so we both typically shoot. Sometimes one of us will be more motivated or inspired for whatever reason and take the lead.
Mitch: Brandy does all the cool stuff and I clean the bathroom and sweep and go buy booze and hold the projector.
Owl and Bear: Your models have included singers from San Diego bands like Soft Lions, Hexa, and Wild Wild Wets. What is it that draws you to using musicians in your work?
Brandy: We've also shot half of Ilya, people from Kata. I think with Mitch having been in No Knife and still actively playing music with Lunar Maps and on other stuff most of our friends are musicians. We title each photo after a song too — probably every aspect of our lives is influenced by music.
Mitch: Yes, there are so many similarities to doing music — the art, the creativity, the element of surprise and happy accidents that lead to new breakthroughs. I think any musician can relate to that and maybe also see that our approach is to try and make something that is at once raw and breathtaking and beautiful. I think also that musicians are uniquely accustomed to standing around for long periods of time and then having a flurry of lights and attention followed by some sort of hangover the next day.
Owl and Bear: Asking someone to pose nude is no small thing. How do you go about convincing prospective models that they're in good hands?
Brandy: Oddly enough that has been the easiest part. A lot of people volunteer and others we just ask. That is the most surprising to me. I think people really want to see how it would look on them. It's also surprising how good most people are at "modeling". It's important to capture each person's uniqueness. We have been told that it's very empowering.
Mitch: Well it was all people we have known for years at first. So far they have all been very supportive and vocal about their experiences (thanks!) and then once they see the images and where we're trying to go with it they have told their friends and shared the pics and it has all grown organically. This has led to shooting people we have never met who were friends of our friends, etc.
When we shoot, we try to make sure that we make them feel comfortable and we are very respectful. Usually, even if they show up nervous, they tend to relax within a few minutes because they can see that we are really into the process and the images.
Owl and Bear: As opposed to other photography that involves nudity, the shadows and projections in your work can serve as a sort of clothing for your models. Does this affect your models' self-consciousness during the shoot?
Brandy: I think we are so clinical about taking the photos and making sure the projections work that after about one minute they forget they are naked. Since it is low light we can't have a lot of movement, so they probably just feel like a mannequin. Also the digital projector is so annoyingly bright, they can't really see anything, I guess that's the flattering part is that people will trust our vision.
Mitch: Totally.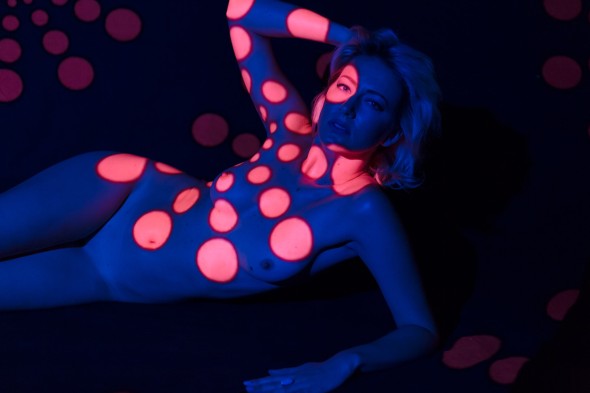 Owl and Bear: You post the most regularly on Instagram, which is famously strict about permitting nudity. What draws you to Instagram over less conservative platforms like Flickr or Twitter?
Brandy: Sadly, because we don't know how to use those sites. Plus a lot of our friends are on Instagram, so it's fun to tag them and see a reaction. We have a website that does have a lot of unedited nudes and we really want to build that up.
Mitch: It's more of a thrill to post on Instagram and do some creative blurring. It doesn't always work, and they will delete our posts sometimes. Twitter drives me bananas, personally. I don't use it much.
Owl and Bear: Shooting in such low light can present significant challenges for a photographer. How do you deal with that?
Brandy: With a lot of grunting and sighing. I'll let Mitch answer this one.
Mitch: It is the biggest challenge, especially since we don't use a tripod, at least right now. We are trying to get the shot before anyone moves. For the digital projections we use two cameras with the projector on a stand. We shoot with higher ISO and slower shutter speeds but we shoot a lot of each pose from a thousand angles.
We decided that for now we'd opt for more blurry shots but just take double the amount so the model doesn't get bored holding that weird yoga pose and we ultimately end up with the focused shot we want. We know what we are looking for and we work fast. It has been working out. We don't have the time or resources to have a crew running around adjusting the lighting and doing makeup etc. so we do it in our own style.
Again with the music analogy — I'd rather listen to a record done in a week in a small studio but with great songs and passion (like, say, the first Christian Death or the first Echo and the Bunnymen records) than a big budget perfectly quantized record with boring or shitty songs. What we are ultimately shooting for is a Girls Can Tell or a Misery Is A Butterfly type thing where it's a good mix of passion and technique and presentation. I guess that's what keeps it interesting and fun.
Owl and Bear: You've been shooting in your house so far. How did you go about creating this in-home studio?
Brandy: We have this big den that we call the "creative suite". That's where Mitch works on music or has practice. It's been easy to leave things already set up in there, so we are always ready. It's convenient too because it doesn't clutter up the rest of the house and we don't have to go anywhere.
Mitch: The house we are renting has converted the garage into a second living room with high ceilings so we bought some lighting and backdrops. We put foil and blankets over the windows so we could do day shoots. Our plant hates us. We'd like to find an interesting studio to work out of at some point.
Owl and Bear: What are your plans for Strangers in a Fire in the future?
Brandy: We really want to build up our skills and portfolio. We have a couple photos in a group exhibit at La Bodega Gallery and would like to do more of that. We are just trying our hand at band photos with projector which is way different than shooting one or two naked people.
Mitch: We are also working on our first foray into video, doing a couple for friends' bands here and in
Oakland. We want to have our own show at some point which would be an excuse to get everyone together and have a good time. We have made prints available on our website too.
We want to eventually travel and shoot people in other cities, which we did recently on our trip to San Francisco. We keep getting weird suggestions and opportunities, and we want to try as many as we can to see where it will take us. We're not trying to reinvent the wheel or anything, but we've found this thing we like to do that we do well together and we want to figure out how to turn it on its head somehow and keep doing it and learning and growing and just having a good time making strange beautiful pictures.