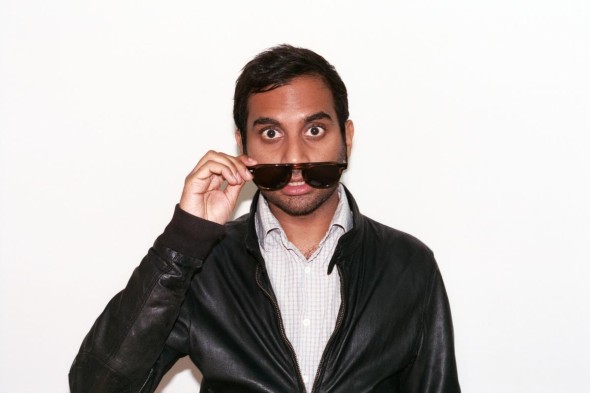 This year's comedic juggernaut, the Oddball Festival, rolled into Chula Vista's Sleep Train Amphitheatre on Friday.
The festival boasted an impressive lineup that included headliner Aziz Ansari, John Mulaney, T.J. Miller, and more. Unfortunately, "very special guest" Amy Schemer was AWOL for this stop in the tour thanks to her gig hosting some show called SNL the following night. That still left a total of nine comedians on hand, but would they be good enough to make us forget about Schumer?
As it will with any large lineup, the quality of the performers varied. Opener/MC Jeff Ross attempted to warm up the crowd by insulting it, and while he was capable of deploying the occasional zinger, most of his schtick consisted of calling out attendees via his "RoastCam" and telling them how fat they were. The New Jersey native had a gruff demeanor that called to mind Breaking Bad's Mike Ehrmantraut if he'd chosen a different career path, and while hailing Donald Trump as the first Orange-American president got some deserved laughs, most of his routine was depressingly one-note.
Rory Scovel took the stage next, immediately demanding to know who in the crowd had "done anal," an act he equated to trying to stuff a lime into a Corona. He had one of the evening's best lines, claiming that, "If you think Jesus was white, you're not allowed to have an opinion on gun control." He also got in some good bits about the TSA, though making fun of flying is pretty much the comedic equivalent of talking about the weather.
Donnell Rawlings gave the night its low point, thanks to an abrasive, intolerant set that mistook shouting for being funny. Asians, Africans, and Indians were all put through Rawlings' ringer, but no amount of yelling or facial contortions could make up for the fact that the set was just plain racist. Had Rawlings not been the night's sole black comedian, would the audience have given him a pass for being as bigoted as pastier hacks like Jeff Dunham?
Next, Anthony Jeselnik strutted onstage, looking and sounding uncomfortably similar to Dane Cook. But to write Jeselnik off would have been a mistake — he quickly proved his worth via his dry delivery and twist endings. Some such jokes included talking about his Uncle John who "runs a camp for kids who are about to be molested" or relating how "My mother should have been on one of the planes that crashed on 9/11 — I think."
The show took a delightfully strange turn with Bridget Everett, whom you may have seen on Inside Amy Schumer. Everett's persona is essentially a cabaret singer in heat, and she spent most of her allotted time singing, flashing the audience, or both. Her set was the most interactive of the night, as she stalked through the crowd, jamming people's heads into her considerable bosoms or calling them on stage so she could sit on their faces. Attendees were skeptical of Everett's schtick at first, but by the end of the vulgar, outlandish set, she'd won everybody over in a big way.
People may know T.J. Miller from his acerbic barbs on Silicon Valley or his lightning-fast improvisation on his Cashing in with T.J. Miller podcast, but his standup set didn't really contain either. It instead consisted of stoned-faced musings on nightmares and weed paranoia or of Miller spraying or spilling water all over himself. The results were amusing enough, but not on par with his HBO or podcast work.
Next, Sebastian Maniscalco charmed the crowd with his twitchy goomba charm. Maniscalco struck an entertaining balance between lamenting things that didn't jibe with his Old World Italian values and slithering around and mugging like a human cartoon. His set was one of the night's best, and one of the few that left the crowd wanting more.
Dressed and speaking like a dapper silver-screen star, John Mulaney was another highlight. He pondered the venue's name, musing that a "sleepy train" sounded like a way you would explain death to a child. His old-timey inflections gave the perfect zing to an extended exploration of the expression "Why buy the cow when you can get the milk for free?" that went on way longer — and was way funnier — than anyone could have expected.
Finally, headliner Aziz Ansari was met onstage with a rock star's welcome. It's been a year since his Live at Madison Square Garden show, which leaned too heavily on crowd interactions and stretched a small amount of material too thin.
Luckily, Ansari's set has improved by leaps and bounds since then. Whether he was decrying the time we waste reading on the internet, touching on Sandra Bland and the Black Lives Matter movement, or detailing the humiliations of cleaning up after sex, Ansari's performance had everything you could want from a comedian. It offered insights into our modern lives, it was politically resonant and sexually honest, and most of all, it proved that Ansari is deserving of all the considerable hype he has received.
Your mileage at any festival is going to vary, but Oddball Festival boasted more hits than misses. Of course, it would have been great to have Amy Schumer there. But thanks to the heavy-hitting sets of Ansari, Mulaney, Everett, and Maniscalco, nobody could deny that the crowd got its money's worth.