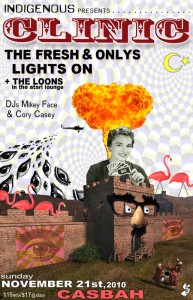 U.K. post-punks Clinic are coming to San Diego, and we have a pair of tickets to give away.
The band is on a rare fourteen-city tour in support its excellent sixth album, Bubblegum, and the November 21 show at the Casbah will be the final stop. Revered by fellow musicians, Clinic have a wholly original sound, and since the late '90s, they've beamed their brand of psychedelic pop into stereos across the world.
San Francisco's The Fresh & Onlys will open the show, along with San Diego's Lights On and The Loons. This year, the Fresh & Onlys released a handful of 7-inch singles, an EP, and — to cap off the year — a new LP called Play It Strange. DJ's Mikey Face and Cory Casey will also be on hand to spin vinyl between sets.
This show will almost certainly sell out, so if you're not a gambler, you can get tickets here.
Otherwise, to enter the contest, just comment below and include your email address in the form (your email won't be visible to the public). The winner will be chosen at random on November 19, 2010.