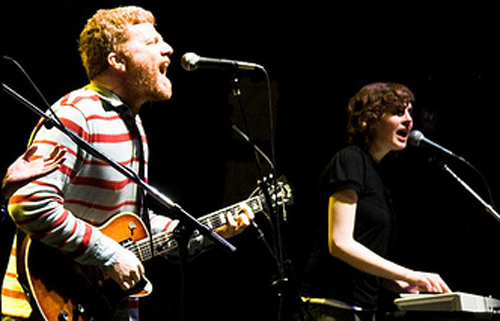 San Diego's annual Street Scene festival was truly a sight to behold. A large section of San Diego's downtown and West Village was sectioned off and made home to four stages, forty bands, and thousands upon thousands of voracious music lovers. From bros rolling joints to cute hipster chicks with flasks taped to their thighs, the surroundings were cramped, but everyone was in such a good mood that no one seemed to mind the lack of breathing room.
Radio favorites MGMT were the first major act to play, and there were so many people eager to see live versions of hits like "Electric Feel" and "Time To Pretend" that I couldn't get within three hundred feet of the stage. The people up close may have had a better listening experience, but from where I stood everything sounded bassy and garbled: the concert equivalent of hearing a song played in a passing car. From what I could make out, the band did seem to faithfully reproduce many of the tracks from their breakthrough album Oracular Spectacular, but the hundreds of people far from the stage could do little more than sing along to whatever they thought was being sung at that moment.
Eager not to have my experience of seeing The New Pornographers similarly compromised, I forced my way to the stage way in advance, and it was worth the wait. Despite the absence of Neko Case's amazing vocals and Dan Bejar's sleazy charm, the members who did show up played a great set. While few if any mere mortals can hold a candle to Neko, keyboardist Kathryn Calder held her own as she supplied substitute backup vocals to frontman Carl Newman.
Perhaps because last year's Challengers was so Neko-heavy, the band instead drew heavily from their Electric Version and Twin Cinema albums. When they weren't scolding their incompetent sound guy or tossing some well-placed barbs at Vice-Presidential candidate/atrocity Sarah Palin, the band launched into superb renditions of songs like "Laws Have Changed", "Sing Me Spanish Techno" and "The Bleeding Heart Show" before ending their set with a wildly amusing cover of Electric Light Orchestra's "Don't Bring Me Down".
Unfortunately, due to a cruel overlap in scheduling, I missed most of TV On The Radio's set, but what I did see was nothing less than a band in top form. TVOTR have always been a great studio band, but their early performances had a tendency to lack cohesion and sound sloppy. Fortunately, the addition of new members Jaleel Bunton and Gerard Smith to the original trio of Tunde Adebimpe, Kyp Malone, and Scarlett Johansson-producer David Sitek has brought the band to a whole new level. Their performances of "Golden Age" and "Dancing Choose"—off their highly recommended new album Dear Science—as well as their rendition of old favorite "Staring At The Sun" left no doubt that TV On The Radio are a band at the top of their game, both in and out of the recording studio.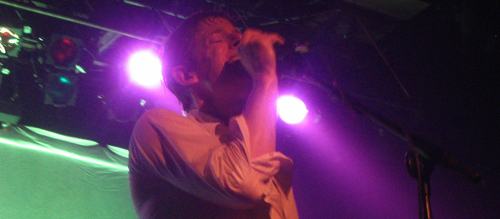 After the high-energy performances of the bands before them, the set by Spoon seemed a bit anti-climactic. Their sparse rock struggled to capture the attention of the enormous crowd who, after already spending hours standing and watching various bands, had begun to shift uncomfortably and talk amongst themselves. Still, whenever Spoon launched into their more high-energy material, they had the crowd's undivided attention. The horn section that was there to play on the anthemic radio hit "The Underdog" was even put to use on older songs like "Jonathan Fisk" and "Stay Don't Go", and singer Britt Daniel's charming swagger and distinctive vocals made for a great stage presence.
The grand finale of the night was none other than iconic goofball Beck and his band. Opening with an explosively raw version of "Loser," Beck stuck to the hits, pleasing the crowd with singles like "Timebomb", "Girl", "Devil's Haircut", and "Where It's At", but added enough twists to keep the songs sounding fresh. While Beck's charisma as a performer certainly came as no shock, what was surprising was how integral the other members of his band were. Beck and company came across as a cohesive whole, rather than as a solo artist supported by an anonymous backing band.
Though I wasn't able to see every band I wanted to—and the high-priced tickets dissuaded me from attending the Devo-headlined second night—it was still obvious what an extraordinary gathering Street Scene had been this year. When The New Pornograhers' Carl Newman gushed that he'd never played a festival with so many great bands, he was met with thunderous agreement from the crowd. The day had indeed been something special for San Diegans: a Coachella in our own backyard.