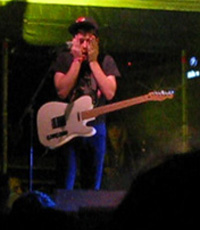 Many bands toil for years, chasing a fame that, for most of them, will never come. But what of the bands who achieve instant recognition, without all the years of honing their talents? San Diego's Wavves is just such a band.
After being plucked from obscurity by a "Best New Music" review from the music gods at Pitchfork, the band has found itself traveling Europe, playing for throngs of adoring fans. Prompted by the band's success, Rolling Stone is reportedly planning a feature on the San Diego music scene, despite the fact that most San Diegans had never heard of the band before they won the P4K lottery.
Now, it appears that Wavves could have used a little more time to perfect their routine before striking it big. According to Pitchfork, the band recently "self-destructed" during a performance at Barcelona's Primavera Sound Festival.
The transition from playing essentially no shows at all in San Diego to facing down thousands of screaming Spaniards can't be an easy one, and no one can blame the band for cashing in on their newfound internet fame. But maybe people shouldn't put so much stock in the cold, fickle hype machine that is Pitchfork, especially when it propels overrated bands into a realm of stardom they are unprepared for. There are easily twenty bands in San Diego more talented, professional, and seasoned than Wavves, all of them worthy of large-scale recognition. But, until the Pitchfork gods shine down on them, the world probably won't care.
UPDATE: Wavves have since canceled their European tour, but are still on the bill for San Diego's Street Scene festival.