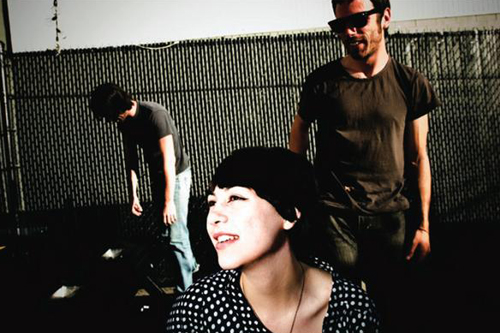 Since taking the city by storm with their debut release, 2007's Humanimals, San Diego dance-funk band Grand Ole Party has kept plenty busy. They've played back-to-back sold out shows at the Casbah, thrilling audiences with their syncopated sass. Lead singer Kristin Gundred started her own label, Zoo Music, and signed bands like Crocodiles and Dum Dum Girls. The band has also been hard at work in the studio, recording their eagerly awaited follow-up to Humanimals.
But since nothing is ever enough for you people, the band hasn't stopped there. The trio has lined up a Midwest tour where they'll be opening up for a little band called Yeah Yeah Yeahs. You may have heard of them.
Gundred's yelping swagger has always owed a large debt to Karen O's trademark delivery, so uninitiated Midwestern concertgoers should be thrilled to discover GOP. Yeah Yeah Yeahs are currently touring in support of their dance-tastic third album, It's Blitz!, and will be stopping in San Diego for the sold out 94/9 Independence Jam on June 7th, where they'll be joined by Metric and the Black Keys.
Before joining up with Yeah Yeah Yeahs, Grand Ole Party will be playing UCSD's annual Sun God Festival this Friday, May 15. Other bands slated to play include Iron & Wine and Girl Talk. You gotta love summertime.
Grand Ole Party Tour Dates:
5/15 – Sun God Festival (UCSD) in San Diego, CA
5/26 – Aragon Ballroom in Chicago, IL*
5/27 – Clutch Cargos in Pontiac, MI*
5/28 – LC Pavillion in Columbus, OH*
5/30 – First Avenue in Minneapolis, MN*
5/31 – Eagles Club in Milwaukee, WI*
6/2 – Pageant in St. Louis, MO*
6/3 – Beaumont in Kansas City, MO*
6/8 – Marquee in Tempe, AZ*
* = with Yeah Yeah Yeahs