Watching opening bands can be a bit of a gamble, but you'll definitely want to arrive early at the Casbah on Friday, September 17. Before the feisty trio known as Menomena blows the crowd away with its sometimes bloody, always amazing act, Tu Fawning will take the stage, and you won't want to miss it.
The Portland four-piece employs driving rhythms and delicate cacophony to create evocative, sinister moods that lie somewhere between the realms of Beach House and Portishead. It's a smokey, intriguing combination of sounds, all tied together by Corrina Repp's sultry vocals.
Repp was kind enough to share her Poetic Memory with us, a "smattering of records and songs" that form a cross-section of her musical influences. While you're reading the list, you can download the free single of Tu Fawning's "The Felt Sense" (MP3), which should whet your appetite for Friday's show quite nicely.
Mississippi Records: This is a label/record store in town. They reissue and release obscure music from all over the world: American roots, blues, gospel, art punk, and world music. A couple of records on this list were put out by Mississippi Records.
Washington Phillips – What Are They Doing in Heaven Today: Phillips recorded eighteen songs, all between 1927 and 1929, though only sixteen survived. Some of his songs amount to highly specific and detailed gospel sermons, featuring Phillips' voice self-accompanied by an instrument that sounds like a fretless zither. This instrument, which has been variously identified as a Dolceola, a Celestophone, and a Phonoharp (and also is considered by some to be an instrument entirely homemade by Phillips).
Irma Thomas – The New Orleans Series: This record provides some great living room dancing.
Grails – Doomsayer's Holiday: My favorite Portland band. This record was released in 2008.
Crissy Zebby Tembo & Ngozi Family – My Ancestors: The 1974 album by the Zambian guitarist.
George Ku Trio – "Kuu Lei": One of the most beautiful songs I have ever heard. Fell in love with Hawaiian music from the 20's and 30's about 10 years ago. Love it.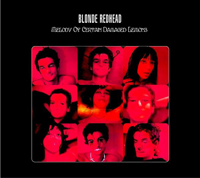 Blonde Redhead – Melody of Certain Damaged Lemons: Amazing record.
Benjamin Britten – Violin Concerto in D Minor, Op. 15: I just saw a live performance of this a few months back. I was in the second row. Stunning.
Smog – Knock Knock: I'm a huge huge fan of Bill Callahan. This record defined 1999 for me.
Shellac – "Prayer to God": One of my favorite songs. I have no idea why that song speaks to me, but it does.
Tom Tykwer: Any movie by him. My favorite: The Princess and the Warrior.
Arrested Development: The smartest TV show ever.
Nick Cave: The best concert I have seen in recent years: Nick Cave at the Crystal Ballroom in 2008. Went to grab food with friends afterward, and he walked into the restaurant to eat. It was his birthday. I am never "one of those people", but it was Nick fucking Cave. I went to shake the man's hand. Goddamn.