"You are what you love, not what loves you." That memorable line from Adaptation may have referred to romantic love, specifically the unrequited variety, but its implications run deeper. Our tastes can be a fascinating barometer of who we are as people, and what makes us tick. High Fidelity — a charming paean to musical snobbery and, as it happens, list-making — makes that point even more clearly with this bit of voiceover: "I agreed that what really matters is what you like, not what you are like. Books, records, films — these things matter. Call me shallow but it's the fuckin' truth."
Of course, everybody is inspired by somebody, and just as our influences can say a lot about us, our influences' influences say a lot about them. In learning about a musician's favorite dance video, Joni Mitchell album, or Neutral Milk Hotel song, we're offered a glimpse into what makes them who they are, and what led them to create the songs that make us who we are. That's why we do our Poetic Memory lists, and in 2011 we had some great ones. We've compiled some of our favorites from the year, which you can read below. We hope they reveal something new about the musicians you love, and maybe even about yourself.
Bone Quida Ida: The promising San Diego musician got personal:
"In the Aeroplane Over the Sea" by Neutral Milk Hotel: There's not much anyone can say to add to the myth and beauty of this song so I will simply relate what it means to me. In 2010, my girlfriend of four years, the love of my life and future wife, died in an accident on the Fourth of July. This was one of the three or four songs she always asked me to play for her. Among the countless cherished memories I have, I also have this beautiful and mysterious song to remind me of her. The first lines particularly resonate with me: "what a beautiful face I have found in this place that is circling all 'round the sun / what a beautiful dream that could flash on the screen in a blink of an eye and be gone from me / soft and sweet / let me hold it close and keep it here with me." I'll think of her every time I hear it, forever.
TV Girl: The San Diego indie-pop duo noted ten synonyms for cash:
Tender: Use this one on dates when you're trying to give the impression that you are a sensitive and caring human being. Example: "I'm telling you baby, these are the best wine coolers that tender can buy."
Fitz and the Tantrums: Noelle Scaggs listed her ten favorite driving songs:
"Car on The Hill" by Joni Mitchell (Court And Spark, 1974): This tune is the 6th song off her 6th LP, and first commercial success for Joni entitled Court And Spark. I love this song, as musically it really represented her new love for experimenting with sound, jazz being one of the elements blended with her folk-like lyricism. This record truly showed her growth as a singer and composer, in my opinion. Definitely a great record to throw in the ride up the coast.
Tristen: The Nashville singer-songwriter (and O&B Best of '11 artist) looked to the '80s:
Billy Bragg – Help Save the Youth of America (1988): If you like punk rock vocals with overtly political messages over banging electric guitars or if you think Americans are for the most selfish, destructive assholes, you will like this record. Billy Bragg released this record during the 1988 presidential election, letting Americans know that their vote and the president they elect have a great effect on the world. I've always been sweet for punk rock boys with convictions.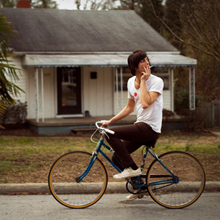 The Love Language: The North Carolina band didn't dress the truth:
"One Week" by Barenaked Ladies: All you need to hear is the opening line "It's been…" and it'll turn your frown upside down. You cannot be simultaneously sad and listening to this song.
Ha Ha Tonka: The Missouri four-piece took pride in performance:
Stage show: We've been fortunate to tour with a lot of great bands, and I'll readily admit that we usually wind up "borrowing" a trick or two from their live show. Old 97s, Langhorne Slim…I'm a sucker for a high-energy performance. I'm also a sucker for the smoke and mirror element of good lights and smoke machines. Even if a performer's a bit off musically, if they're putting out the energy onstage it goes a long, long way. We always try to get the crowd going because it's such a reciprocal relationship between performer and audience. The higher your energy, the more into it the crowd is, the more energy you have, and so on and so forth. Plus, basically at the end of the day, we're all ripping off James Brown in this respect.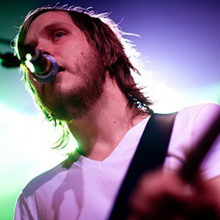 The Wealthy West: The Austin band stayed humble:
My extremely talented friends: Being a touring musician lends itself to meeting tons of musicians from all over. I've met some amazing songwriters and musicians over the years, and it always encourages me to see them succeed. It helps to know that there are other people out there who are so passionate about their craft and want to share it with other people.
Knesset: The Los Angeles band schooled us on music videos:
"Little Bit" by Lykke Li:
A. Location – Is this a real living space? I want an address and lease.
B. Lighting – It does not get any better than this for me as far as simplicity is concerned. Shoot right into the light source and bring on the warm colors; you know the way to my heart.
C. Concept – Simple, elegant, attention-clenching, and makes you move. Those glitchy cuts are spot on and so tasteful. Do Beyonce's backup dancers or soccer shorts guy dance harder?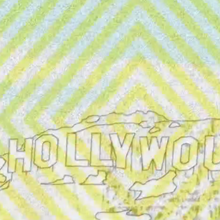 Paleo: David Strackany veered toward the crazy, but impressed us nonetheless:
Girls, those I know and don't know, who I'll never meet or never should have met, who've been dead a thousand years, who'll be born a thousand years from now: It's insane to think that the factor that determines gender is a random switch that gets switched somewhere toward the beginning of conception. And upon that coin, so much of the course of your entire life is plotted. The name they give you. The clothes they give you. The words that are used to describe you. The things they say you'll be good at. And you take it and run with it as far as you can, but it always feels like you're wearing shoes that are two sizes too small, that you shouldn't be wearing shoes at all, but wings, bat wings, angel wings, anything that'd just get you up there and over all of this bullshit. And yet, the dance…slow or fast, it's something you can't do in the air, but on the ground, suffering the slog and sludge to try to take the most that you can be and fit it into the least that you can be. Because the skin don't fit me either, but we make it worth it for one another, and everyone in between and outside that duality too. Everything in the universe is glued to everything in the universe.
Man Man: The Philly experimentalists listed weird videos:
Hellzapoppin' Swing Dance / BEST DANCING EVER:
http://youtu.be/R0BHxhUnokU