SoCo Music Experience Schedule Released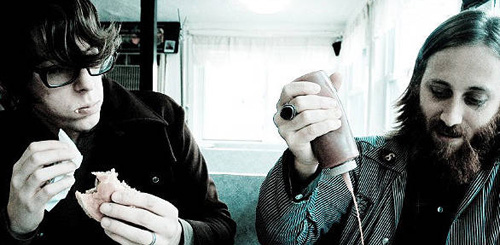 ^^ The Black Keys ^^
The folks behind the annual Southern Comfort Music Experience, to be held in the Ace Parking Lot at the corner of Imperial and Park this Saturday, have finally seen fit to declassify its set times. A five dollar "donation" grants you access to the event and its eleven musical acts.
Most people will no doubt be there to witness the down and dirty blues of the Black Keys, or the hipping and hopping rhymes of Common.
But the real reason you should be excited is that three of San Diego's most energetic and captivating live acts are performing. Grand Ole Party, The Silent Comedy, and Lady Dottie and The Diamonds all have charisma to spare, which is why they'll be sharing the surplus with you.
The event is 21 and over, natch, so bring your ID. And, if last year is any indication, drinks at the event will cost roughly fifty dollars each, so you might want to bring a flask too. Just don't let the security guy feel it when he pats you down, tightwad:
3:15 – 3:45pm Lady Dottie and The Diamonds
4:00 – 4:30pm The Burning of Rome
4:30 – 5:30pm Grand Ole Party
5:30 – 6:00pm Buddy Akai
6:00 – 7:00pm Saul Williams
7:00 – 7:30pm The Silent Comedy
7:30 – 8:30pm Kinky
8:30 – 9:00pm Shark Attack
9:00 – 10:00pm Black Keys
10:00 – 10:30pm MC Flow
10:30 – 11:45pm Common
Potentially related content