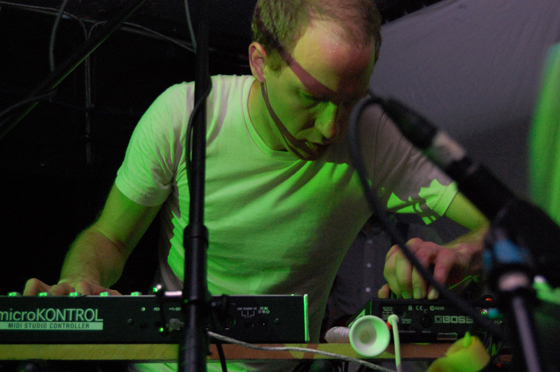 Though you might find the new Caribou album, Swim, tucked in the indie-electronic aisle, frontman Daniel Snaith samples a much wider buffet of genres in a live setting. As you'd expect, you'll hear him match up against electronic contemporaries like Vitalic, Animal Collective, and even Paul Van Dyk, but a good portion of the show also has the wider influences featured on earlier albums. His previous album, Andorra, had vintage tributes to The Mamas and The Papas (if backed by the relentless drums of, say, Dave Grohl) as well as indie-style jams that evoke My Morning Jacket or Wilco on an experimental kick. Last Thursday at the Casbah, Snaith tied up this diverse palette with a fat beat and dropped it all over a late-night dance party.
The scene that night was as diverse as the music. Dolled-up college girls gave it a little shaky-shake, their designer purses swinging into swarms of irritated hipsters and their vodka-crans spilling onto sleuths of disinterested gay bears. An armchair cultural anthropologist could write a thesis on the fascinating dynamic between these groups that do not interbreed, but, like the rest of the crowd, I was more interested in getting my own groove on.
Toro y Moi, alter ego of Chazwick Bundick, warmed up the floor. Bundick put out breathy synth and high-pitched vocals from underneath a trucker hat, while his touring band cranked out basslines reminiscent of the Knight Rider theme over a simple snare and steady high-hat. The show started slow for me, both in the music and stage presence, but picked up at the end with some Stevie Wonder synth-driven funk. By the time they wrapped up, the floor was packed and oiled up, and even demanded a rare opening-act encore.
Snaith took the stage dressed simply in white T-shirt and glasses, in stark contrast to the complex instrumentation surrounding his station, including sound board, double mic, guitar and drums plus a handful of miscellaneous musical toys and noisemakers. Live, Caribou is a 4-piece with standard guitar, bass, and drum kit joining Snaith in front of a backdrop of concentric polygons and psychedelic blobs.
Aside from a few classic rock interludes from Andorra, the mix was heavy on the electronic dance vibe of Swim, blasting strobe lights into the crowd for stand-outs like Leave House, Odessa, and Hannibal. Even with all the strings on the stage, the sound was dominated by ever-present square-wave synths and Snaith's airy singing. The songs never strayed too far from their album versions except for the occasional crumble into white noise on the fade-out, but this can be a good thing — one doesn't want to be too surprised when dancing one's ass off. Live, more attention was given to minor details hidden in the album: animal screeches, metallic clangs, the tick-tock of wood blocks falling like raindrops, sleigh bells. Even the recorder sounded absolutely necessary when he pulled it out for a brief 10-note slurry.
With lights flashing and a heartbeat pulse forcing our arms up high, Snaith picked up drumsticks for dueling percussion solos, and the place transformed into Club Casbah. As Caribou wrapped up the first set with the one-word chant of "Sun" (with a yellow sphere projected on the backdrop), I saw a sorority girl leading her friends out of the crowd with one hand in the air so no one would get lost. I guess I don't blame you for feeling like you were at a giant rave, chick, but it's still just the Casbah. Credit Snaith, though, for making us forget.