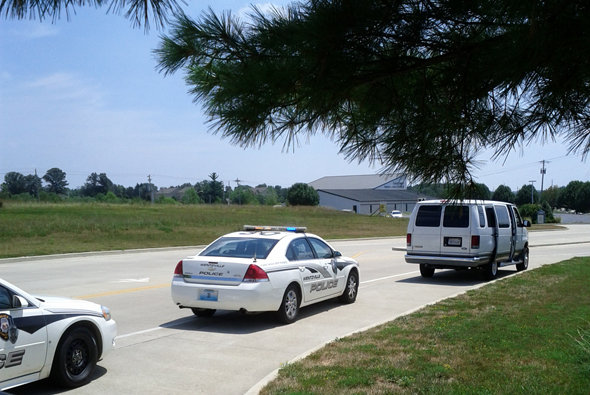 After a decidedly eventful U.S. tour that included a van breakdown, a robbery, a police stop, and many colorful characters, Maren Parusel and her band will finally return to the West Coast tonight at the Casbah. According to Mario, the band's manager,
30 shows in 35 days, a Vitamin Water commercial with Foster The People, a van breakdown in Texas, 100 degrees on the East Coast, stolen guitars and gear in NYC, a live performance on Sirius Radio with legendary rock critic Dave Marsh, a bar fight in D.C. It's been one hell of a five weeks, and not your average tour for an indie pop band, but these four have survived, thrived, and won over audiences around the country.

Please welcome Maren, Eric, Kyle, and Ariel back from tour with a return show at The Casbah.
The set starts at 9pm; the band's tour diary is below.
July 5, 2011: Hey this is Maren, Kyle, Eric, and Ariel and today is the first day of our National Tour. Over the next few weeks we're going to share some of our experiences on the road.
The tour kicked off today in Arizona, so after a sleepless night we all hit the road at 6am for the 8 Hour drive to Tucson. We're excited and also a little anxious about spending the next 5 weeks in our 15 passenger van, with our self-made curtains and plenty of Trader Joe's snacks. 🙂
Since this will be our first national tour, we plan on seeing the country, meeting new people, playing music, and catching some heat before the summer is over.
During our first attempt at food in Tucson, we were greeted by an ex-convict in front of Carl's Jr. who asked if we could give him a ride to his parole office (he assured us he won't go back to jail, but we politely declined). Next, we played a Vitamin Water unplugged session at Wave Lab studios…sweet because they also supplied us with as much Vitamin Water as we could possibly squeeze into the van!
We also got a chance to say hi to Foster the People, who played there as well. Expect to see some of these performances on the Coca Cola/Vitamin water websites — we'll keep you posted on that. After the taping, we headed to the Eclipse Bar to play with Race You There and Electosaurus.
There's a severe thunderstorm here tonight, but we had some time to hang out, play pool, and have some cold drinks before the storm cooled us off from the Arizona heat! After all that, the best meal we could find today was a well-deserved happy hour dinner…fried zucchini sticks and spicy nachos! Voila! Well done!
July 6, 2011: Day two of the tour started off pretty great — we were able to sleep in late and didn't have far to drive to the Yucca Tap Room in Tempe, Arizona. Our host, Jenny from Honey Pistol, was kind enough to cook us breakfast and let us lounge in her pool as we tried to beat the heat.
Before the show, we got a chance to visit the local record store in Tempe called Zia Records. They bought some of our CDs and vinyl, which was very cool. Great people and a great record store supporting the local music scene.
Everything in the city is covered by sand from last night's dust storm! Maybe it swallowed the sound man, because he didn't show up at The Yucca Tap Room. All the bands had to figure out the PA system. When we played, we had to turn the monitors around so people could hear our vocals. We played with some great bands, though. Trip Tych, Captain Squeegee, and another band from San Antonio. We met Dan ET from Captain Squeegee, who gave us an exclusive interview outside the club. We're heading back to Jenny's for the night…tryin' to get some rest for our 8 hour drive to El Paso tomorrow morning.
July 7, 2011: Today we hit the road for El Paso, and prepared for about a six hour ride from 100 degrees of dry heat to 100 degrees of Texas heat! With Phoenix reaching 100 degrees again this morning, we are all kinda glad to be back in the van with air conditioning.
We were searching for a coffee shop and finally found a Gloria Jean's in some mall. Ariel was teaching us how to pronounce coffee correctly with a New York accent — it's gotta be pronounced like "caw-ffee." And he is very meticulous about us pronouncing it correctly. Gotta have that caw-ffee.
You never know what you're going to run into on the road, and New Mexico is always fun because of its roadside fireworks stands and alien sightings — even in broad daylight heading east on the I-10. We play the LowBrow Palace in El Paso Tonight!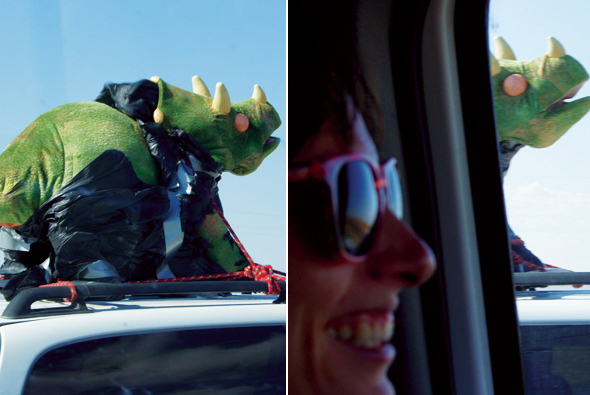 July 8, 2011: Today is day 4 of our 4 1/2 week tour across the U.S. So far, we've crossed California, Arizona, New Mexico and are now driving through Texas. We played a great show in El Paso last night, and decided to hit the road after the show to make it early to Arlington to Eric's mom, who will take us in for a few days. Pool and Texas BBQ sounded much better then cheap road food and dry hot desert heat, so we decided to drive the 10 hours tonight. A really great band called the Halfbreed Lovers opened up our show in El Paso. Some people we met at SXSW in March also came out to the show and that was very cool as they took some videos as well.
While Eric and Ariel took the 2am shift, Kyle and I are now driving through the Texas landscape into the sunrise. BBQ is in the distance, but for tonight it was Whataburger. Eric grew up in Texas, so he was happy to eat here. At one stop I almost considered some other options like Spam, but I'm glad I decided to pass!
All this space everywhere. After 4 days on the road now and our first drive through the night, we're finally getting into the tour mode. Not much sleep, meeting new people, constant movement, and a sense of freedom and joy of just being travelers. Kyle and I took the morning shift and got to see the sunrise, Texas style.
After a night's drive we arrived at the family home of our drummer Eric Brozgold, who grew up in Texas. His mom lives at this beautiful home in Arlington just 45 minutes from Denton, where we're playing tonight.
They had food and beds ready for us when we arrived, and it was like hitting an oasis in the desert. We got some rest and awoke to a feast: smoked brisket and chicken, sausages, cheesy potatoes, baked beans, Mexican cheese cake. Shiner beer from Shiner, Texas. Thanks to Claudie and Rochelle! 🙂
With full bellies, we took off for Denton to play The Rubber Glove. Turns out Eric knew and had played with a couple of guys from the opening band, The Hannah Barbarians, who sounded like early Kings of Leon. Southern, Texas rock: long hair, trucker hats, Miller Lite in hand while singing. Missile Men also sounded like Texas rock: lots of rock melodies. Really nice people and we all had a great time!
July 9, 2011: No drive from North Texas along the I-35 is complete without a stop at The Czech store. Delicacies galore, and it just always seems to be the exact distance between Dallas and Austin where ya need to stop for gas?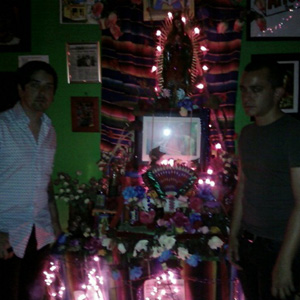 We got a chance to sleep in after the show in Denton and then made our way to San Antonio to play a place called Salute International. We met The Krayolas at Alejandro Escovedo's barbeque during SXSW, and they were kind enough to open for us and help promote the show. The area of the club had a cool feel with Taco stands, strip clubs and hot rods parked out front. Flames on any kind of car makes it a hot rod, don't ya think?
Small venue, Mexican-owned and operated. Met bar owner Eseneth who told us that she dated the "Jimi Hendrix of accordion players," and he used to play there. Also, she told us that a trumpet player just recently passed away on the bar floor while playing his trumpet.
It's a cool little place and it filled up pretty quickly. The Krayolas opened up for us, and had a great set. The harmonica player was incredibly good. After the show, we went and got tacos next to a Bodyworks strip club.
We got to stay at a Hilton in San Antonio, and went to bed at 5am. Got up around noon, drove to see the river walk in San Antonio, which is beautiful with stores and restaurants, and we saw the Alamo. They say it's a lot smaller than you would imagine and they are right! After that, we drove an hour to Austin. An amazing thunderstorm kept us company along the way.
July 10, 2011: Today (Sunday) is a big day because we're playing in Austin, a big music town. We've played SXSW a few times, and Emo's — where we're playing tonight — is one of the cooler clubs in the city.
Maren is fighting a cold, so we've got her pumped up on cold medicine and chamomile tea. We got to the club early for sound check and got our buy-out (money the club gives you for dinner), and went to find a meal somewhere nearby. For some reason, we always seem to end up at The Hilton Coffee Shop just off 6th Street in Austin. It's where we grab coffee during SXSW and we gravitated there one more time. The guys grabbed some sandwiches, and Maren got some soup and more tea for her throat.
Eric's old neighbors, Becky and James, let us stay in a loft here in Austin that's really cool. And it was perfect for a traveling band with some floor space and two big couches — and of course good Texas cooking!
The show at Emo's went great. Triple Scorpio kicked of the night and it was great to see some familiar faces because our friend Deborah from Devildolls Booking (our agent) came to see us, along with Alejandro Escovedo and all of Eric's friends and family from the area. Maren powered through her cold and we had a killer set with a day to rest up Monday at the loft. We hit the road on Tuesday for Houston, and then its onward to the Southeastern part of the country.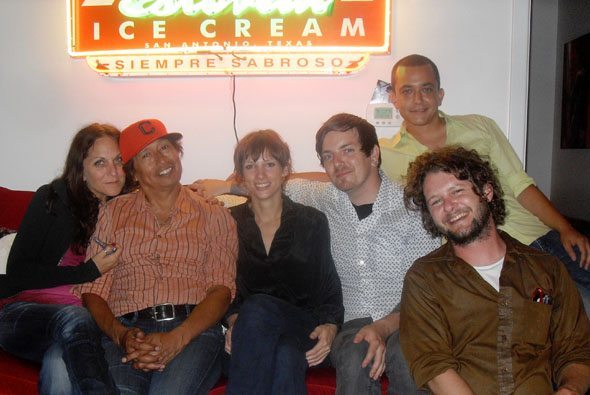 July 11, 2011: All of the Mondays on the tour are scheduled to be days off because it's usually one of the tougher nights to get people out. We took the extra day to catch up on emails, get the van cleaned, and rest up some more as Maren tried to beat her cold.
But the night was pretty incredible as Alejandro Escovedo and his girlfriend Mel invited us over for a night of dinner and music at their downtown apartment. Mel and Kyle went to go get some pizza and sushi while Ariel and I got a chance to check out Alejandro's guitars.
The food was amazing, and afterward we got to sit around with Alejandro and jam for a while. Alejandro is a big David Bowie/Mott The Hoople fan, and so is Ariel, so he got to play some lead on "All the Young Dudes" while Alejandro sang. Pretty inspiring to be around someone who was in one of the first California Punk bands, and now is a critically acclaimed singer songwriter.
This night is going to be hard to beat, but now we're ready and inspired to head to Houston on Tuesday and then on to the Southeast!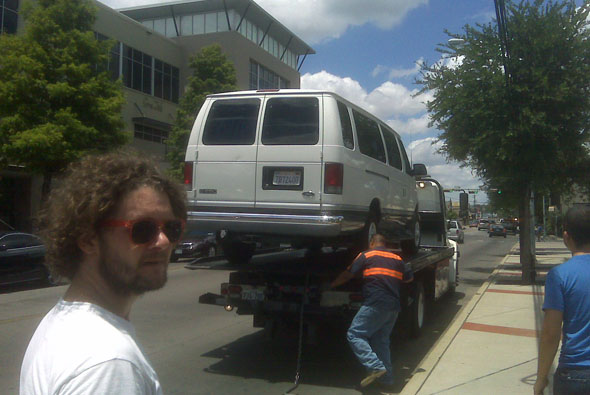 July 12, 2011: Did Willie Nelson have another song called "On the Tow Truck Again?"
We got up this morning in Austin, packed our bags, and headed out to drive to Houston. We wanted to stop by Whole Foods on the way out to get something for my throat ( I've been fighting a cold). When we pulled into the parking lot, our van was smoking and the AC had shut off. We parked and called AAA to get towed.
The shot of our van on a tow truck may seem very familiar to our Facebook friends, since we broke down on the way home from SXSW last March and posted a very similar shot. Kyle and Ariel went with the tow driver, and Eric and I stayed behind…looking for the nearest place with air conditioning.
Well, after an hour, they picked us up again. Sadly, our AC is broken and it would take too long to fix it, so we headed to Houston in the van without AC, stripped down to the bare minimum clothes and enjoyed the wind through our open windows! Summer is here, yay!
When we got to Houston and checked into the hotel, we were happy to see that they had a pool there. Cooling off with water and cold Shiner. After we got to Rudyards and loaded in, we finally had time to enjoy our free dinner: BBQ rib sandwiches!
We played tonight with Day Sailor and Jealous Creatures — both bands were rockin' and really nice people. But Thank god the hotel has AC, cuz its back in a hot van tomorrow!
July 14, 2011: "Do not say 'Hot-lanta' on stage!" — a few words of advice from a friend in Atlanta who says every traveling band says that and it just irritates the audience here in Georgia.
After a long seven-hour drive, we arrived at the 529 Club. It was in a very cool area. You know you've made it as a musician when you're on the road getting a "per diem," and I guess we've got a ways to go because our "per diem" is 5 dollars a day! LOL! So we try and take advantage of the free food or buyouts the clubs give us, and of course the free drinks! Tonight we got ten bucks each from the club to go get dinner at a nearby pizza place and a handful of drink tickets, and that was great!
The show tonight was with two Atlanta bands: Where's Your Fire Tiger? (great name) opened up, and Cute Boots headlined. They were both rocking, and a lot of people showed up for the show tonight. It was a very cool crowd! We really liked Cute Boots, who've only been together for a year but have a really cool sound. We were happy to make friends with both bands and we hope to come back one day soon.
July 15, 2011: We got rolling pretty early after a great night in Atlanta to head about six hours south to Jacksonville, Florida. The club is called Jack Rabbits, and funny thing is, about a year and a half ago, I meet the owner after I finished soundcheck at the San Diego Music Awards. Tim Hall heard me play and said, "If you ever head to Florida, I'll book you at my club," and he did!
Jacksonville is a beautiful City that is a lot like San Diego, but 20 degrees hotter! The people at the club were cool and there was a great lineup. Sunbears! was headlining, and they're one of the best bands we've played with so far on the tour. They are from Jacksonville, and they sound kind of like John Lennon/Muse/Flaming Lips/Radiohead all rolled into one.
The place was packed, and we made a lot of friends here. Afterward, Jonathon from Sunbears! was kind enough to let us stay at his place. Jacksonville rocks!
July 16, 2011: We got word late Friday that the show today in Fayetteville was canceled due to some electrical problems at The Black Cat, so we decided to drive closer to Durham for our show on Sunday. We got a late start because Jonathon from Sunbears! was kind enough to late us sleep until 2pm at his house. We drove for a few hours to the historic city of Charleston to get some rest and catch up on laundry, emails and other fun.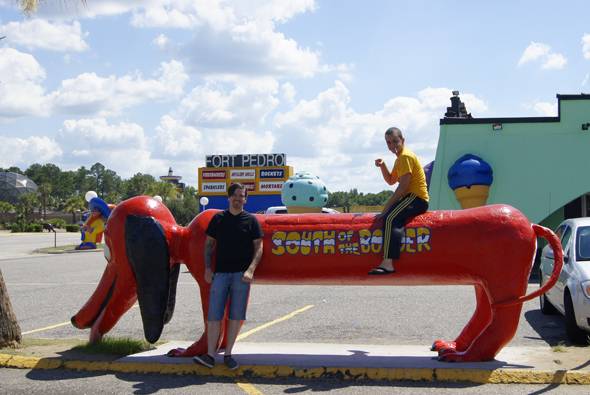 July 17, 2011: This morning, Kyle took advantage of the motel's continental breakfast. We met a Southern family, and their grandma didn't wanna to eat the toast, so the whole family got mad and tried to convince her to eat in Southern accents!
Today, we went to a Starbucks in the morning to get coffee, then hit the road. FIve hour drive to Durham with a stop at South of the Border! It's theee craziest rest stop ever. We stopped to take in all the sights and fun, and there was all kinds of crazy things to look at.
Tonight, we played the Motorco Music Hall and the owner Jeremy was very cool to us. We made friends with our number one fan in Durham, Charlotte Stewart!! Kyle is excited to be getting back to Pennsylvania, so we're driving all night to his mom's place!
July 18, 2011: After a fun show in Durham, we decided to drive through the night again to have our day off at Kyle's family's place near Philadelphia called Palmyra.
We drove through Washington D.C. When kyle and I woke up in the morning, Eric was still driving. Both he and Ariel were hyped on 5-hour energy boosts, and Eric was determined to finish the job. We saw an incredible sunrise in the green hilly landscape. It really reminded me of Germany in the summer. All the trees, the grass, and the hills looked just like it. We drove by the Hershey's factory and the morning air smelled like chocolate.
When we got to Kyle's parents' house, we were greeted by the whole family. His mom, dad, and brother were just getting ready for work. After settling in for a little while, I followed Kyle in the van to get the AC checked out at a local car repair shop with whom the McGee family has been friends for years. It was so pretty to drive through this little east coast town. Right across from the repair shop was a small but old cemetery, with big trees.
The repair shop told us that they would need a couple days to find the leak and replace the hose, so we had to pass on fixing the AC for now. We might have to sweat it out until San Diego!
Later, Kyle's mom had fish and chicken ready on the grill outside. She had also made pasta salad and green salad. I tried a red vinegar egg, which Ariel and his mom were raving about. It looked pink but tasted pretty good. We had a great dinner. We sat outside and watched fireflies in their backyard. Ariel caught one and it was glowing in his hand. It started raining, and I loved the smell of the warm rain. I went in the grass and danced around because it felt so good. 🙂
July 19, 2011: Kyle's mom really fed us over the past day! After eating more for lunch, we started heading out and we were sweating in the van on our drive to Baltimore. The landscape is beautiful, but we hit traffic and there was no wind whatsoever in the van, so we got tired really fast. We picked up Ariel's girlfriend Megan, and we went to his friends' house 30 min out of Baltimore to take a quick shower and get dressed. We got to Richard and Milan's house and it was giant. A California architect designed the house in a Feng Shui kinda way, but in a modern sense. There was a rainbow painting covering a living room bridge, which connected two halves of the house. In a secret room behind a closet, there was a gun collection which we weren't allowed to take pictures of(?).
Outside, they had a garden with newly planted apple trees, a big pool, and right next to all of it, the forest with big trees and werewolves. We settled into the "hell" which is the basement (one of the other themes of the house!). Obviously, heaven was upstairs and hell downstairs. In Hell, there were strange things hanging from the ceiling. Bloody knives (luckily fake ones), and other sort of toys I don't wanna get into.
We played a place called The Golden West Cafe, which kind of had an old diner feel, but with record covers on the walls here and there. Black Pool Holiday and A Cat Named Cricket were great. Black Pool Holiday is a younger band, and it was really refreshing to see their enthusiasm for playing! Very cool for A Cat Named Cricket to play on a Tuesday night, and we had a fun time!
After the show, we headed back to the house and I settled into the Basement, a.k.a. "Hell" (see accompanying photo).
Ariel and his girlfriend are skinny-dipping at the pool! Good night world!
July 20, 2011: After only a few hours of sleep again, we got up around 9:30 to make it early to New York. We didn't really expect much traffic, but it took us five hours to drive from Baltimore to Brooklyn. We dropped of Megan (Ariel's girlfriend) at her friend's place and headed to a music store to get some new tubes for Kyle's bass amp which broke during the gig at The Golden West. Ariel was happy to be back in his city. He gave us a tour of south Brooklyn and said that this is the more authentic Brooklyn compared to the hipster part like Williamsburg. He says [the hipster part] is an example of artists moving into a poor neighborhood, artists creating something new and cool, rich people who want to be cool moving in, prices shooting to the roof, artists moving away, and neighborhood becoming boring.
We headed towards the Knitting Factory and stopped at a music store; things seem to be a bit more expensive here, but the vibe is cool. Brooklyn is happening right now.
The guys at the Knitting Factory were really cool, and they took care of us. They gave us food money and had a full rider for us! Lots of beer and Red Bulls and even towels! 🙂 We had our own backstage room and felt like rock stars! We went on second and had a great show. The first band, Morricone Youth, had members of the San Diego band Creedle and the bassist from Steve Poltz's Rugburns. It was great to see some familiar faces, and we know a lot of the same people! Morricone Youth was fun, with a sax player and girl singer, and we were glad that they were on the bill! Even San Diego music writer — now Philly writer — David Stampone took the train down for the show!
It was a pretty great night and we were happy for a very cool turn out. The last band Wet and Wreckless is from L.A. and we hope to play with them again back in California. It was awesome to play at the knitting factory, because it's had some great bands play there in the past, and still continues to bring great acts to town.
We're driving to Ariel's dad's now, who lives 1 1/2 hours out of New York, and so we only have 30 minutes to to New Haven tomorrow. Ariel said his dad also lives on a lake, and maybe we'll have time to go for a swim tomorrow! This was a long but great day, and we'll be happy to rest at Ariel's dad's house!
July 21, 2011: Today, we made it halfway through the tour! We woke up this morning to the most beautiful nature scene on this tour so far. Ariel's dad lives in a nice house right at a lake in Staten Richport, CT. It was so beautiful! After a couple bagels for breakfast at 1pm, and enriching our brain with some good old Looney Toons, we decided to go down to the lake and for a swim. The water was so refreshing. We saw a wild goose hanging out on the grass between the trees. We all jumped into the water and were hanging out in the lake for a long time. We laid in the sun and the guys worked on their farmer's tans. It was like summer camp for a day.
Before the show, we ate at the nearby Pepe's Pizza, New Haven Style, and you can see why there was a 20 minute wait!
Today we played at Cafe Nine. It wasn't a cafe at all; it was a cute bar in New Haven, which has a great charm to it and friendly New Haven locals mixed with college students. The first band, Farewood, was great; the singer Leah had a great voice. Their style and her voice reminded us of the Cranberries and Blonde Redhead. Their set was great, and I liked the fact that their sound was well-balanced on stage. I met a couple of locals at the bar, saying that we should go to BAR next time for pizza, which is less touristy then Pepe's. Everyone really loved our set, and we had a great energy going with the audience. People really listened to the songs.
Afterward, a girl came to me and said that we touched her with our music and she teared up during "Don't Take Your Eyes Away." She said it sounded beautiful and she could relate to the song. I thought that was one of the best things of this tour — that we actually moved someone with our songs. It was a great moment for me as a songwriter, and I felt very touched. That's what I love about music: it's so powerful and can change lives for the good. Tonight, we are driving back to New York city to get some rest at Ariel's mom's place in Manhattan. We can get up early and be tourists in the city for half a day, before we play at pianos in NYC. We are in good spirits and are growing closer as a band. After almost 3 weeks, we saw the good and the bad come out in each of us, and its been making us a better band altogether. We are excited to take on the 2nd half of the trip! Watch out New York, here we come!
July 22, 2011: Last night, we stayed at Ariel's moms place in Manhattan's Upper West Side. We drove a couple hours back to the city and made it there by 3:30am. Ariel's mom had made meatballs and spaghetti with salad. It tasted so good! After we ate I blew up my mattress and crashed out pretty hard, because I was beat from the show and the heat. The guys took off and went to check out Times Square and Rockefeller Center. When they came back at 5:30, it was already light outside. We slept until about 1pm and got up, ate some leftover meatballs, and decided to walk around the corner for coffee.
Eric and I found a cool old shoe repair shop — just a hole in the wall. Since Eric's soles had fallen off the other night, we decided to see if the repair guy could fix the boots in a day. When we walked in there, we were like "We are a traveling band, we'll be performing today, please fix our shoes." He said he would fix them by 5pm because he likes music! After that, Kyle, Eric and I decided to ignore that it was over 100 degrees in NYC and took the subway down to lower Manhattan to check out some tourist sights.
We're playing a place called Pianos. It's a cool place in the Lower East Side; there are so many people walking around and out on the street. They also had DJs performing there in one of the other rooms, and the place was packed!
The vice president of Bug Music came to see the show, and he was really nice. We had a bunch of people here to see us, and we were the first band of the night. The band after us was from San Francisco and they were really good.
We left around 1am and had to find a parking garage for the van. It was still 100 degrees out, and we were lucky when Kyle's friend Jeff told us that there is a cheap but safe parking garage close to where he lives in Queens. Ariel had taken off earlier to spend the night with his girlfriend, and Kyle, Eric and I gave Jeff a ride to his place. We parked the car in the garage and went to Jeff's apartment, where we were treated to a wonderful night view of Manhattan from his rooftop.
After chilling out for a minute, we had to go back to the city to meet up with Kyle's parents, who treated us to a hotel room at 39th and 5th. We took a cab, and he dropped us off way too early. We walked for about five blocks with all our backpacks and sleeping bags, and finally reached the hotel drenched in sweat! We were so disgusted by ourselves. It wasn't pleasant and we HAD to take showers. It was the hottest day in New York since 1998, or something like that. Moms got arrested because they left their children in the car. People had to stop working on outdoor work sites, because in some places, the temp reached 136 degrees. But the Maren Parusel band stood strong against the heat and played a hot and sweaty set!
Tomorrow we'll be heading to Philly. I'm tired and my head hurts. I'm on my cozy air mattress, and I'm gonna sleep really really well tonight! Good night, New York.
July 23, 2011: The heat wave hitting the Northeast isn't letting up and it's like a sauna everywhere — especially in a van full of equipment and four band mates who are working on three hours sleep every night.
We picked up the van this morning at a parking garage in Queens and made our way to Philadelphia to play the show tonight and then come back to NYC so we can be on Sirius radio with Dave Marsh.
We're playing a place called The Fire, and everyone from John Legend, to My Chemical Romance, to Cold War Kids has played here. We got into town with enough time to try and get some rest at Kyle's friends' place, who were having a birthday party. Ever heard of Street Bombs or Boat Racing? those are some drinking games they play in Philly.
The club really liked us and we had a great time. We were really happy with the turn out tonight and now we're heading back to NYC to stay at Ariel's mom's house in Manhattan.
Editor's note: Maren Parusel's first U.S. tour suffered a major setback in Manhattan on July 24, as thieves broke into their touring van and stole gear, over one thousand dollars, and personal items. Click here to read a message from Maren and to find out how you can help.
July 24, 2011: Hey, this is Mario Escovedo, and I manage Maren Parusel and band. I got a call around 4:30am Sunday morning, and from the tone of Maren's voice, I immediately knew something bad had happened. She told me "It's gone, it's all gone, they broke into the van" in a devastated voice, and it was like a nightmare. The band parked in the West 80s of Manhattan to get a couple hours of sleep at Ariel's mom's before making an appearance on Sirius radio with Dave Marsh this morning. That's all it took–someone broke into the passenger door of the van and grabbed all their guitars, keyboards, merch, and money. They even took some clothes and snacks they kept in the van.
I quickly notified the radio producer Jim Rotolo at Sirius while the band made a police report. Anyone would understand if the band wanted to call it quits at that point, but a moment later, Maren called and said she, Kyle and Eric would take the subway to the show, while Ariel talked to the police. Somehow, they composed themselves enough to perform several songs live on the radio, with Maren using an autographed Les Paul they had hanging at the studio. Pretty inspiring performance by the band, playing the whole "Artificial Gardens" record live throughout the show.
After that, the band regrouped at Ariel's mom's and Kyle, Eric, and Maren borrowed a guitar from Jeff, a NYC friend. Members of the band Blackpool Holiday heard the radio broadcast driving back from Boston, and they drove into NYC to give Maren $150 dollars for gas money. Then, the three drove to Washington D.C. to playtTonight's show at DC9. Meanwhile, Ariel stayed behind to put up flyers and hit pawn shops and guitar stores to look for the stolen gear.
They still have their drums, a guitar, and bass amps, and now they plan to continue the tour borrowing the missing equipment from other bands on the bills. The band has a day off tomorrow and the tour picks up Tuesday in Kentucky.
July 25, 2011: Woke up and thought of all the crazy circumstances from the weekend: the van theft, the radio performance and playing Les Paul's Guitar, and then a wild Night at The DC9 in Washington D.C., where the bass player for the headlining band was so drunk, he tried to stand on the drums and then threatened to beat us up after the show. (Note: he did send an apology email to our manager the next day. Apology accepted, Lilo.)
After we stopped to see some sites like the White House, we continued to drive toward Newport/Cincinnati, where we have a gig the next day. On our way, we stopped at a gas station in some small town, and the cashier told us a story: she once went to a bar in town and a guy walked in with a chainsaw, threatening to kill another guy he was having a fight with. Then, he went at him and cut off his arm and leg. The girl said she ran into the bathroom and just heard the screaming, and when she came out, there was blood everywhere and she ran out of the back door of the bar! Well, we decided to pass on staying the night there, and drove another hour out to Morgantown. When we got to a hotel, they only had a suite available, and all the other hotels were sold out, so we just took it and treated ourselves to something nice.
July 26, 2011: When we got to the club, The Riverboat Gamblers were soundchecking in the main ballroom. They sounded great. They told us their lead guitar player had to go home and left the tour for a couple dates, and they were bringing in two other guitar players for this gig. We thought it sounded great though.
Turns out, they have had their gear stolen a couple of different times since they started. When we finished loading into our room on the second floor where we were playing, we did a soundcheck, got some food, and watched The Suburban Revival. Promoters always seem to think we need to play with a band where there's a girl singer as well? They also told us they got put on the bill the day before!
When we went on, Kyle's bass head suddenly didn't work on top of us not having much gear anyway, and it was another letdown. Luckily, Suburban Revival lent us their bass head. We played through a short set and then met up with the Riverboat Gamblers, who played at the same time as us in the other room. I talked to the banjo player from The Tillers, who was working the door. He told me that the house was built by British prisoners of war in 1812. They were locked downstairs in the basement in terrible conditions, and you can still see the remains of the cages they were kept in. He said there are ghosts in the house. A white lady is supposed to haunt the room we played in, and a colonial soldier is said to haunt the second floor. After that, he said it became a major mafia house, since Cincinnati was a richer place and Newport was the bad city to live in. They had gambling and prostitution going on, and now they have shows there. The Killers, White Stripes, Misfits, The Germs have all played there.
Great seeing The Riverboat Gamblers, who gave Kyle some shirts since all his clothes were stolen in New York, and now we're off to Cleveland.
July 27, 2011: When we got to Cleveland, we went straight to the Rock 'N Roll Hall of Fame and checked in. If you are a touring band, you can just give them your CD, and you get in for free. They check the picture on the CD to make sure it's really you. It was interesting to see all the guitars and handwritten notes. I loved to see the guitars and notes by John Lennon, because I'm a big fan of his. I liked a quote that they had on the wall there: "My role in society, or any artist's or poet's role, is to try to express what we all feel. Not to tell people how to feel. Not as a preacher, not as a leader, but as a reflection of us all."
Afterward, we made it to the club, Now That's Class, and did a soundcheck. While we were loading in, a group of homeless people tried to sell us a portable TV. The club had a skateboard ramp inside the venue, and the bartender was already doing shots when we got there. After the soundcheck, we all hung out at the bar. Lauren, the bartender, told us she wants to move to California to get out of Cleveland. We had a fun show and made a lot of new friends. Kyle's bass amp went out on the first song, and since we've been playing as a three-piece for a couple days since the robbery in NYC, it was just me and Eric doing it White Stripes-style until we switched amps. One more thing on our list. No guitars and now no bass amp!
When we packed up, the people who tried to sell us the TV were back in the bar. One of them was named Beatrice. She was fighting with one of her friends and she was screaming through the whole bar, and making a racket. No one seems to care, though. She was definitely on drugs and kept on wanting to buy us drinks from the twenty bucks she found on the street, she said. She got mad that no one wanted to take her up on the offer. The story goes the she recently was at the bar, went up to this guy with glasses, ripped his glasses off his face, folded them up, and put them up her vagina. Great news to hear at 1am in Cleveland!!
July 28, 2011: We left Cleveland early to get to Pittsburgh in time to find an amp repair shop to get Kyle's bass head fixed. We called around, and after several tries we found a store called Manella Guitar Shop. They were really nice on the phone and said we should bring it by when we get to Pittsburgh. The shop was a little hard to find, because Pittsburgh has all these windy roads, very much like in Europe. It's an old city, and has its charm with all the old little houses and old churches. When we got to the shop, their big, friendly Labrador dog greeted us, and they took a look at the bass head. After waiting for a little while, one of the owners told us that those bass heads have a voltage switch, and anytime the voltage goes under 112 it automatically puts the amp into standby mode. Usually, there isn't a problem in newer clubs, but if it's an old building, the current might fluctuate and that's when it happens. You can disable it, but it ll take time to do so and that's what we don't have on tour. Since the AC broke in the van, and now the amp, we learned fast that when you are on tour, there is not much leeway in between gigs for things to break.
A lightning storm knocked out power to the club for a while, but happily we could still play the show. Brillobox is a cool, hip club. It has 2 stories: a bar downstairs, and a the bands play on the second floor. Closet Romantic opened the show. They had a girl lead singer, who said it was her last gig with them because she is moving away. Falling Andes played a great set, and we closed the show. It was a fun night, and we made more friends. One girl was there from San Francisco, and she said she is going to come to a show when we're back West. After the show, we got some pizza and crashed out hard!
Tomorrow, we'll be heading to Columbus, and again we will adapt to any given situation, break through the walls which get in our way, and hope again that there will be a strong electricity current for Kyle's bass amp, and no storm on its way to knock out the power! 🙂
July 29, 2011: We left Pittsburgh early, because Kyle's friend couldn't let us stay longer at his house, and he had to work at 8am. So we were on the road at 8am, and pretty tired from not getting any sleep. I drove the first shift, but had to pull over after only an hour. Eric and Kyle drove the rest of the way, which luckily was only about four hours. When we got to Columbus, we just found a hotel with laundry and checked in. We did all of our laundry, which was about time, because we all had run out of clean underwear at this point — except for Kyle, who had to buy some at Target because all his clothes were stolen in New York. 🙂 We stayed in the hotel room the entire day, laid in bed, watched TV, and ordered Chinese food to the room.
Tonight, we're playing a place called Carabar in Columbus, and when got there, the bartender and most of the people were doing shots. There was a real relaxed vibe there, and the owner met us outside and offered to buy us shots. Kyle and Eric gladly accepted. As you might guess, I think this is going to be a fun night. Four bands, all different sounding and no one seems to care. There's live music and, they are looking to have fun! I think everyone is expecting a kind of hard rock metal show?
We stayed and closed the bar. Afterward, we went and got some McDonald's — 3am food — and crashed out right after that. This morning, we got up early to drive to Chicago. We send out the Music Cares forms (Grammy Association that helps musicians in emergencies), and we're hoping to get some gear replaced soon so we can continue our journey. It's great to have people help us out with lending us their instruments, but once we hit San Diego, we gotta send their back. Hopefully by then, we can replace some of our stolen gear. Our spirit isn't broken, and we will continue to move ahead and adapt to whatever comes our way. Check off playing at a heavy metal show! 🙂
July 30, 2011: When we hit the road to Chicago, I didn't feel good. Maybe it was the junk food we had late at night, or the vodka cranberry, or my monthly calling which made me feel like shit. We drove to the post office on High St. in Chicago to send out the Music Cares forms to hopefully get some instruments replaced. Luckily the guys were wide awake, and after I disgustingly puked out the McDonald's fries from the night before in front of the Chicago post office, I crashed out in the back of the van and the guys drove the whole way. When I woke up, they had stopped at the Indianapolis football stadium for the Colts. Eric is a big fan and wanted to take some pictures.
The drive was about six hours, and we got to Chicago early enough to walk around in the city. We just parked downtown "in a safe area" 🙂 and walked around. Downtown Chicago looks nice. With its big buildings, it has a NYC flare, but seems a little more calm and very clean. We walked along the river and just looked around to find a Chicago hot dog, but couldn't find one!!
When we headed to Beat Kitchen, everyone was really nice. Sam greeted us and got us free pizza. We got a soundcheck in and Kyle's bass amp didn't work again. By now, the only things on stage which are not borrowed are Eric's drum kit and my blues junior guitar amp. Luckily, all the other bands helped us out again with gear. One of the opening bands was called Hemmingbirds. They were great. I watched their merch table during their set, and they had brought a TV where they played their music videos. We went on as main support and had another fun show. The last band, Glitter Mouse, were kinda like an "off Broadway musical indie garage rock band." They had a fun stage show and got the crowd going. The show was over fairly early, and we went and hung with Kyle's friends, who put us up for the night. Today, we're driving to St Louis. It feels good to head west again! Ariel is going to join us back next Tuesday to finish the tour with us. We will definitely have lots of good stories to tell!
July 31, 2011: We got up this morning in Chicago and got some coffee to get ready to drive for about 6 hours in the heat. Windows down, the least amount of clothes on our bodies, and the music turned up loud so we can hear something above the wind trough the windows. We stopped at Target, and I got some new sunglasses, because the guy who stole our gear had also liked my sunglasses and took them. After we hit the road, it was pretty flat landscape. People seem to not know how to merge at all in construction areas on the highway, and it made us really mad, but I'm sure ther heat played its role in our road rage as well. But today, people couldn't drive and it was frustrating! After being stuck for 50 miles in a traffic jam, we finally got to St. Louis — sweaty and exhausted.
We drove straight downtown to check out the Gateway to the West — a giant arch in the middle of the city, right at the Mississippi River. It was build in the sixties as a monument to the westward movement in the US, and is the tallest monument in the country. We took some pictures and had to go do sound check at The Firebird in St Louis. The guys there were really nice, and dialed in a good sound at soundcheck. We left afterward to go back downtown to grab some food. It was strange, all the businesses around the club or just a few blocks away from downtown were closed, and it looked like a ghost town. We didn't see a soul. On the street, there were just a few homeless people walking around. When we got downtown again, there was a baseball game going on: the St Louis Cardinals against Chicago Cubs. We had some great pasta at Bar Calico, which had miniature train tracks With trains running around on the ceiling.
When we got back, the first band, Cart Wheel, was about to go on. They had some great songs, and the lead singer sounded like an indie Lily Allen and they had a good crowd. We went on right after them, and they gave us their wurlizer to use for the key songs. It sounded different, but good! 🙂
The last band was called Old Capital Square Dance Club. They named the band like that because they live in Vandalia, the old capital of Illinois. It sounded like a country version of Bruce Springsteen, and we really liked them. They had two guitars, a bass, drums and a harmonica/guitar player. We had a fun time on a Sunday night in St Louis, and then we drove 30 minutes out of the city to get a hotel for the night.
Aug 1, 2011: Drive to Kansas. We stayed in a Motel 6 on our way out of St. Louis. We just wanted to get out of the city, and took an exit 30 min away, called Wenzville. When we got up in the morning, it was already 100 degrees outside. We jumped in the van and were on the road for like 2 minutes before we got pulled over by three police cars. They stopped us and collected all of our IDs. Then, they pulled each of us out of the van and questioned us individually. We asked for the reason for this is and they said they are looking for drugs, and that there is a huge amount of drug trafficking in and around St. Louis. They saw our California license plate when we pulled into the hotel the night before. Eric still has a Texas ID, and payed cash for the room, which made them suspicious. I knew I could decline their search, but also knew we would be waiting all day. They wanted us to admit that we had drugs or a large amount of money in the van, haha. We told them that we certainly don't and we don't have much of anything after the robbery in NYC. They said they were going to get a drug dog and see if they could find anything. We had to stand outside in the grass and wait. The police chief showed up, along with the K9 guy. Well, they didn't find anything, of course, and the dog slobbered all over Kyles clothes — the only clothes he has left since the robbery in NYC. They were so disappointed that they couldn't find anything, that they tried again to have us admit "for training purposes only" that we had weed with us — because they found Kyle's rolling papers for his cigarettes. Of course we're not stupid, and they had to let us go after that. We lost an hour waiting around in the heat, and felt like suspects to a nonexistent crime! Fuck that!
After our incident with the police, we decided to get an oil change at Jiffys. Mondays is our day off, but we decided to drive to Kansas City anyway and get a hotel for the rest of the day and night. This was certainly one of the hardest drives of the tour. Temperatures outside hit 110, and I don't know how hot it was inside the van, but after a 5 hour drive we were completely exhausted and checked into a hotel. They had a pool and a cool air conditioned room. We relaxed and watched The Wild One, starring Marlon Brando. It's about this kid who rebels against anything, a reflection of the youth rebellion back in the day. Johnny is the leader of the motorcycle gang Black Rebels Motorcycle Club. Also one of their rival gangs is called The Beetles. That's where John Lennon got the name for the Beatles from, because he loved that movie.
We're picking up Ariel from the airport today. Glad to be a four-piece again and finish the tour strong!
August 2, 2011: Tonight, we're here in Kansas City at The Record Bar with Parts of Speech and The Coathangers from Atlanta. It's the hottest its been in KC since 1983, and while we were loading into the bar, the electricity went out because too many people are using their air conditioners. It actually was kind of fun being stuck in the dark bar with a bunch of musicians and the happy hour honky tonk band that was scheduled to play from 7-9pm. We made the most of it, and the honky tonk band played acoustic until the lights came back on.
We're all feeling better because Ariel flew out today from NYC, and we are back to being a four piece again, sounding the way we should. A lot has happened what with getting our gear stolen, but we have survived and kept playing, and now we're excited to return home sounding good and strong again.
Parts of Speech are fun and punkish, and so are the Coathangers, who are really nice and friendly and have soo much energy on stage. I thought about my family back in Germany, and that my mom can't even imagine where I'm at right now. I'm truly enjoying this music, and this is one of those real moments I've been chasing. I realize that being on tour is not just about playing your music every night; it is about adapting and understanding other people who grew up differently, and it is about accepting things the way they are — instead of forcing a point of view upon somebody. The beauty about going on tour is that music connects with almost anyone everywhere. Today was a good day, and tonight we'll be driving to avoid the heat as we make our way back west. Next up is Denver! 🙂
August 3, 2011: Driving! Almost 8,000 miles total so far! We were driving all day today to make it from Kansas City to Denver, Colorado. It was hot but cloudy today. We had the windows down, and the wind plays with my hair, tickling my face. Listening to some classic rock station, daydreaming, driving, sleeping, browsing online, writing blogs, posting shows on Facebook from our phones…we couldn't talk much, because the wind was too loud. The landscape in the Midwest is just flat. Agriculture fields as far as your eyes can see, some cows and buffalo, big ad signs on the side of the road and a beautiful sky.
When we got closer to Denver, we saw a big storm on the horizon, and we kept on looking out of the window to maybe spot a twister! That would have been another thing to check off on our list!
When we got to the club, it was pretty much the same procedure as every night for the past 5 weeks. Load into the club, soundcheck, backline, get some food (we got hot dogs right around the corner), first band plays, people show up, people get drunk, we go play, we have some drinks and sell merch, talk to locals, and make friends. For example, we met Thunder: he plays in a heavy metal band in Denver, and also does photo touchup for Coors Lite ads. He told us he would take us in for the night, but has a 19-month-old son. He said he could maybe get us the key to his church, but he might get in trouble for that! Then, the last band plays, and we are watching or talking to locals. After the show, we load into the van, settle up to get paid, and hit the road to drive a little into the night. It was a fun night, and the bar is in an area with lots of other little clubs and hipsters on bikes riding around at night.
We drove out of town after the show and found a cheap hotel, and got some pot pie from the gas station as our 3am dinner. Driving to Salt Lake City today. We can see the Rockies with snow on top! Beautiful!
August 4, 2011: Long drive, but beautiful landscape in Colorado toward Salt Lake city, Utah. The landscape went from flat green farmland to hills, mountains with snow, to desert. The sky and the colors were just amazing. We stopped at a rest stop, or so we thought, but it turned out to be a one-man city called Buford. There was a house with a store and a mail drop box. The guy behind the counter was the mayor of the town, or so he told us. Ha.
When we got to Salt Lake City, we went to Burt's Tiki Lounge, which really has nothing to do with any tiki stuff. It's more like a punk rock club. When we walked in, we were greeted by a little person who had made a throne behind the cash register, so she could overlook everything. It had steps and an old office chair modified to her needs. She told us not to load in yet, and ordered us a pizza. She also told us later that night that she is going to dress up as a bear for Halloween, and is going to go to New Orleans. The only thing she is worried about is that a drunk person might fall on her and squash her because she is so small. We walked around a little bit.
The show was fun, and we spend the night at Keith's house, who played in the first band (I forgot their name 🙁 but they sounded great: a mix between folk and rock n roll.) They have drums, guitar, and Keith switches between banjo and bass.
At his place, Keith told us about a band he really liked called Mr. Gnome, who had come through Salt Lake City a while ago. We talked for a while about being on the road. They wanna buy a van and go on tour too, so now that we've done the five week trip, we could give some advice on what to do and what not to do. 🙂
Today, we're driving to Reno, which is like 500 miles away. Passing the great Salt Lake. We have 2 more nights to go, and we're happy to come back home, but also a little sad not to be on the road playing every night and experiencing all these new situations and places on this trip. We all know in our hearts that after a week of rest back home, we'll be itching to hit the road again. It's addicting to be fed everyday with new impressions, and we like to be in motion, travelers with the speed of sound.
Rolling the dice in Reno and Vegas for two more nights.
August 6, 2011: We drove through the night. We didn't wanna stay in Reno after a bad experience with the club. Eric and I took the first shift, and we popped one of those 5 Hour Energys. It's not really a freeway from Reno to Vegas, so we had to drive through some towns and on regular highways. We were driving for about three hours already when the road we were on suddenly stopped. We realized we took a wrong turn somewhere and were back in California near Yosemite. It was crazy driving through the dark, hilly roads, because you couldn't see where the street was heading, and it was curvy and scary. We lost about two hours going in the wrong direction, but after nine hours driving through the night we finally saw Las Vegas on the horizon! Eric said he might have a deal at The Mirage, so stopped there to see if he could get a cheap room. It was still too expensive, but they gave us a deal at Hooters Hotel of all places, so we got that one. Ha! 🙂
We were glad to have a room with AC. The guys went and walked around while I took a shower and a nap. We had to be at the Artifice Club by 6:30pm. We got there, and it was in an artsy area off the craziness of the strip. There was a poetry reading going on outside across the street at a restaurant, and the Artifice was a cool, hip club. We set up and had a soundcheck, and then decided to drive around and check out Fremont Street, the "old Las Vegas." On our way there, we stopped at the Gold and Silver pawn shop where they shoot the reality show.
We walked around Las Vegas, and it's pretty overwhelming with all the lights and neon signs. Lots of people in shorts and flip flops, staring at giant blinking TV screens. Slot machines everywhere! When we got to the club, it was already pretty crowded. One of the promoters of the club, Brandi, had her birthday party there, and we got some drinks at the bar. We played around 10:30, and people really dug it. When I walked up to the bar after the show, I recognized Mark, the bass player from The Killers sitting at the bar with some friends. I had met them before on a previous tour opening up for a couple killers shows, and we started talking about music. Mark told me a couple of road stories from when they first started out. He said once, they got a hotel room and when they took the sheets of the beds, there was a blood trail from one bed to the other.
He also said they got lucky, and they were in the right place to the right time. He told me that on their first tour, they often played in front of five people, but then one of the five people was the one they needed to play in front of! I asked how their personalities changed when they got famous, and he said that it just magnified each personality to the extreme! The good and the bad 🙂 Everyone had fun at the club! People were dancing and having a fun time. There was birthday cake and DJs spinning records. It ended up being a fun last night of our five week tour, and tomorrow we'll be heading home to San Diego! We've pretty much checked off everything that can possibly happen on our first U.S. tour! The good, the bad, and the worse, but in the end, I wouldn't want to trade in any of those moments we had traveling through the country! It was a lifetime experience and a hell of a good time, and I would do it all over again… Maybe not leave the van parked in NYC, but beside that, it was all worth it! We re excited to come home, write new material, make a new record and do it all over again! 🙂