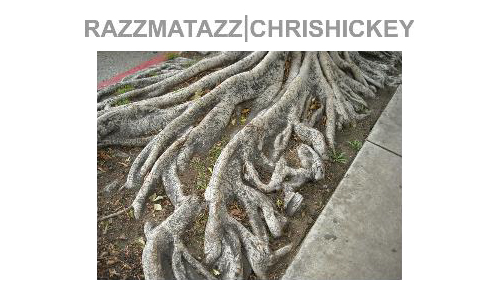 Chris Hickey has recorded with musical luminaries like Joe Henry, Michael Penn, and Indigo Girls, and he's a former member of the bands "Uma" and "Show of Hands". Now, he's released Razzmatazz, his third solo effort.
One highlight of Razzmatazz (among many) is Hickey's tribute to Jack Kerouac. He says, "I've only recently discovered Kerouac and I agree with Allen Ginsberg when he said that Kerouac's work is 'The most sincere and holy writing I know of our age.'" Hickey does the man justice with "Kerouac" (MP3).
The album was written in song-a-day fashion over the course of three weeks, and the result is "16 songs, vocal & guitar, recorded on a hand-held voice recorder…so, for better or worse, it's sketchy, low-fi, quirky…but it might be charming or something." It's been listed listed as a New and Noteworthy on release on iTunes. You can purchase it here (iTunes).
We recently sat down with him to talk Poetic Memory (below). He used his own formatting when he sent us his list, and we decided that it works best that way. Enjoy! Continue reading →