Ah, Comic-Con. This year's inexplicably hyphenated gathering of geeks and gawkers has come to an end, leaving San Diegans feeling hungover, used, and sore in strange places. This was my first crack at the convention, and I went (almost) all in.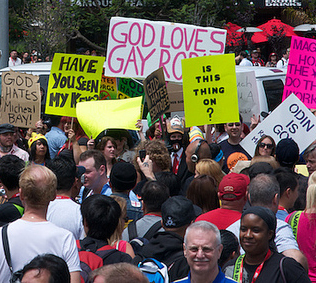 I started my Thursday photographing Westboro Baptist Church, your friendly neighborhood hate church. Three Westboro adults and two indoctrinated teenagers held "GOD HATES FAGS" signs, while nearby, a throng of counter-protesters mocked the Baptist bible beaters, holding signs like "GOD HATES MICHAEL BAY!" and "I HAVE A SIGN!" After a short time, the primitive Westboroans literally threw up their hands and left.
As is apparently the custom, Thursday is when everybody tries to get into Hall H, the giant conference room where Hollywood royalty sit protected from the peasants behind a cordoned-off barrier. Perched on high, the celebrities get to talk about themselves, tantalize us with trailers, and pat themselves on the back.
Thursday's panels featured a subdued conversation between J.J. Abrams (Lost, 2009's Star Trek) and Joss Whedon (Firefly, Dr. Horrible's Sing-Along Blog). Whedon finally confirmed that he is directing the much anticipated Avengers movie, a storyline which he claimed "makes no sense…[the Avengers] shouldn't even be in the same room, let alone the same team. And that, to me, is the definition of family."
Both Abrams and Whedon weighed in on the topic of 3D, and neither thought the technology was just a short-term fad. Whedon supported 3D, denying claims that it tainted film scripts. "If you're making an action movie," Whedon stated, "3D lends itself to that." Abrams was more apprehensive, saying he found 3D to be "dim," though he did see promise for it as technology improved.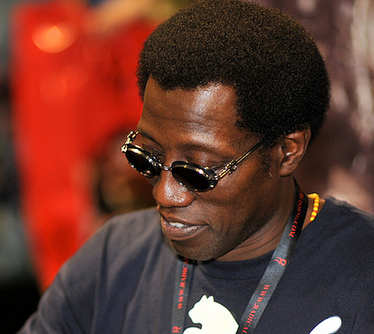 Thursday also featured the manliest of all panels, that of The Expendables, featuring famous guests Sylvester Stallone, Dolph Lundgren, "Stone Cold" Steve Austin, and even Bruce Willis. The panel debuted an ultraviolent, gratuitous, and fast-paced fight scene, complete with snapping limbs and geysers of blood. Belying the primal trailer, Stallone charmed the audience with his unexpectedly articulate commentaries, humble gratitude, and outlandish tales (Austin broke Sly's neck during filming, requiring three pins to be inserted).
Meandering on the floor of Comic-Con, I met four ancillary characters from Star Trek: The Next Generation. The four actors — LeVar Burton (Geordi La Forge), Brent Spiner (Data), Marina Sirtis (Deanna Troi), and Michael Dorn (Worf) — were apparently seated in order of friendliness: Burton was a generous guy, Spiner shook my hand, Sirtis wanted to see my receipt, and when I said "Good to meet you" to Dorn, I'm pretty sure he said, "Are you sure?" Later, Spiner wrote on Twitter, "At comicon now enjoying not shaking hands." D'oh.
I arrived at the convention center around eleven on Friday and entered Hall H without having to wait in line. This was probably because the first celebrity panel was for Drive Angry, Nicolas Cage's new muscle car action movie. Based on the trailer (which made no secret about having been SHOT IN 3D!), Drive Angry seemed like your typical Hollywood cash grab. The highlight was listening to Cage wax poetic about the film's "artistry" and his character's "motivation."
Next came the panel for Skyline, a completely self-produced alien movie from Colin and Greg Strause, whose effects house has worked on movies like Avatar and Iron Man 2. I have to say, for being totally self-produced, the effects weren't horrendous. My favorite part, however, was being able to stand a few feet away from actor David Zayas, who plays Angel Batista on Dexter.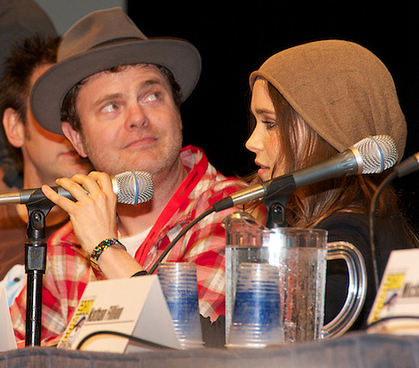 After Skyline was the panel for Super, which was a hoot. Boisterous Office actor Rainn Wilson basically stole the show, whether he was mocking fellow panel members or play-fighting Nathan Fillion (Firefly) after being asked whether Captain Mal could beat up Dwight Schrute. Liv Tyler was there, too, though you wouldn't know it because she's a low-talker. When I could understand her words, she seemed to have nothing interesting to say. As for the film, Super looked promising. Rainn Wilson's character is apparently a doormat-type guy turned goofy superhero murderer. If the film doesn't end with him being strapped into the electric chair, it must exist in a parallel universe where it's okay to bludgeon strangers with wrenches.
The panel for Don't Be Afraid of the Dark featured astoundingly violent clips (think extracting someone's teeth with a knife) and humble commentary from director Guillermo "f-bomb dropping machine" Del Toro. Though he seemed like an amiable guy, I can now see why Del Toro is no longer associated with the upcoming Hobbit films: he probably would've created some inappropriately creepy Hobbits.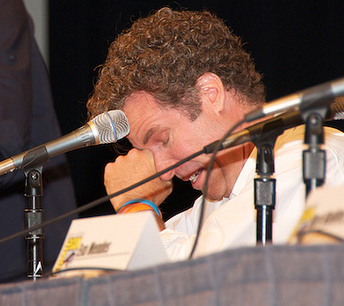 Finally, the panel for Will Ferrell's NYPD detective comedy The Other Guys. The trailer seemed like typical Ferrell fare: actually bad, but destined to be quoted and loved for decades to come. As the lights came up, the audience saw Ferrell in a state of hysteria, actually in tears from laughing at his own jokes. Regardless, it was fun to watch Ferrell, Eva Mendes, and Mark Wahlberg talk to the packed house.
Saturday was my final day at the 'Con, and I basically spent the entire time waiting for the Paul panel, hoping to catch some photos of Simon Pegg, Nick Frost, Sigourney Weaver, Jason Bateman, and Jeffrey Tambor. I slogged through the panel for Let Me In — the remake of the excellent Swedish film Let the Right One In — which seemed cool enough. Next came "Trailer Park," a god-awful 90 minute commercial-fest. The mostly bad 2D and nasuea-inducing 3D trailers gave me a painful headache. The only standout was for Never Let Me Go, the film adaptation of Kazuo Ishiguro's 2005 book.
The crowd's collective Trailer Park coma did not bode well for the next panel, which featured cast members and clips from Resident Evil: Afterlife. My impression pretty much matches that recently expressed by SlashFilm under "Worst" in its "Best and Worst of Comic-Con" writeup:
I walked away with the understanding that [Paul W.S. Anderson] and [Milla] Jovovich seem to live in a dream world where they think everybody loves the Resident Evil franchise. Needless to say, nothing interesting came out of the panel…When they showed a clip of Jovovich and [Ali Larter] fighting a giant axe-wielding character called The Executioner, it seemed as if the entire audience was stupefied by what they were seeing…The clip was embarrassing for everyone in the room. The audience was thoroughly unenthused (there were audible groans throughout the clip).
Maybe the stabbing that occurred afterward was a response to the Resident Evil panel. Or maybe it was a fight over a seat. Only the perpetrator and his victim know for sure. Regardless, I'd like to thank the writing-utensil-wielding weirdo for forcing me to watch 58 minutes of Trailer Park reruns while the police conducted their investigation.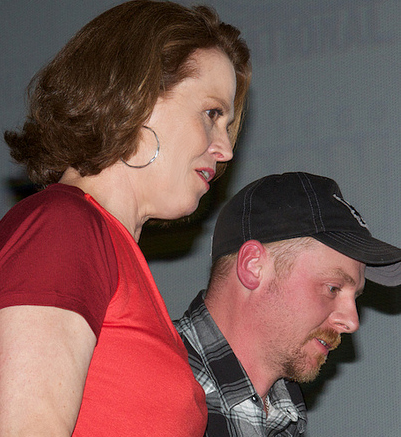 With San Diego worried that the convention will be moved to a less profitable location in 2013, the pen-stabbing is a crisis begging to be exploited. Convention center marketers need to latch onto this unfortunate event and turn it into a sales pitch: if you think the stabbings are bad in San Diego, imagine what they'll be like if you moved to Los Angeles.
Finally, after the police were satisfied and the visibly shaken emcee settled down, cast members from Paul rushed onto the stage. It was great to see a real legend like Sigourney Weaver, actors from Arrested Development, and especially Simon Pegg and Nick Frost — two of the last decade's best comedic actors. Paul is going to be a departure from what we're used to from Pegg and Frost, but anything that features these two is sure to be worth watching.
I decided go home and nurse my headache after the Paul panel, and I still don't regret leaving while Daniel Craig took the stage to massive cheering. Lots of other big names came out after Craig, but I left anyway. Sue me. One of the immediately apparent things about Comic-Con is that you can't possibly do everything and see everyone. I'll catch Harrison Ford some other time.
While Comic-Con 2010 was not without its frustrations, it was still a blast. Between getting to see some of my favorite (more obscure) actors in person, and walking around with the nerdy masses (to quote Patton Oswalt, "The floor of Comic-Con is full of teachable moments"), the upsides far outweighed the downsides. I have learned many things from you, Comic-Con, and I shall return next year — even if they confiscate all dangerous writing instruments at the door.
Comic-Con 2010 in photos